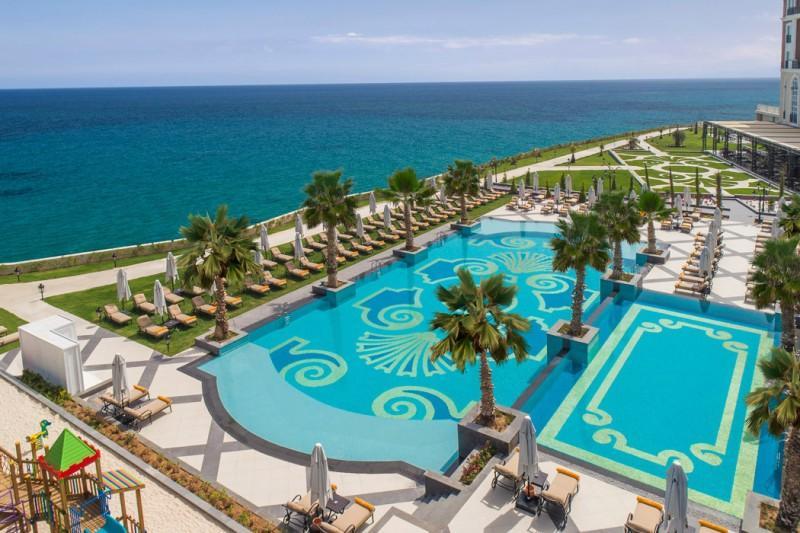 The Most Luxurious Hotels in Northern Cyprus;
You can have a unique holiday experience with
luxury hotels in Northern Cyprus.
Choosing a hotel is extremely important so that you can enjoy the island's magnificent sea, beaches and natural beauty. With a hotel that can offer you everything you are looking for, you do not have to think about anything other than enjoying your holiday. Therefore, we have researched a few of the Northern Cyprus hotels that offer luxury and comfort together. You can easily decide which hotel you prefer by reading our article.
This hotel is located in the centre of Kyrenia. It provides a great advantage with its proximity to the port, which is historically worth visiting, and the castle, which reflects the Byzantine period. Bearing traces of Ottoman architecture, you can experience peace and enjoy luxury at the hotel. Arkin Colony, which is at the forefront of all aspects of Northern Cyprus Hotels, offers you different room concepts. The Arkin Colony Hotel has many features to ensure your comfort in colony club rooms, junior suite, residence suite and premier suite rooms. Stylish furniture is used in the decoration of the club rooms. The room has a very large bed. Alternatively, twin beds can be preferred. In the junior suite option, there are privileges such as living room and jacuzzi. Residence suite has a design that makes you live the comfort of your home, such as a large sitting area and a work desk. You can feel an artistic touch with the ceiling decoration in Premier Suite rooms. It has a magnificent structure with its hall and luxurious bathroom.
Salamis Bay Conti Resort Hotel
You can find everything you are looking for in Salamis Bay Conti Resort Hotel . This hotel is the ideal choice to feel the luxury to the fullest during your holiday and to spend days full of unforgettable memories. You can enjoy every moment with fun animations, concerts by famous artists, poolside parties and aqua parks. Located in Famagusta, the hotel has standard and duplex villa options for you to experience the comfort of a villa, as well as normal and suite hotel rooms. Park, garden and club room types are also offered to you with sea or nature view options. You can have fun in the game centreequipped with the latest technology equipment. You can find various tastes of Turkish cuisine and world cuisines in the hotel's restaurants.
Merit Royal Premium Hotel
The hotel offers a comfortable and quality service while welcoming its guests; fun activities, a large aqua park and spa services are available. In this way, you are offered wide opportunities to enjoy your holiday. Rooms are classified as standard deluxe, junior suite, normal suite and King Suite. All the items you need are available in the rooms. You can also have fun moments at the hotel's game centre.
The hotel is Located in Zephyros, one of the most beautiful bays of Northern Cyprus where blue and green meets. The distance to Kyrenia is 10 km. In this way, if you are wondering what Kyrenia is like, you can go on an exploration tour. With 349 rooms and game centre with different alternatives, you can enjoy luxury to the fullest.
Resembling the Palace of Versailles with its architectural structure; the hotel adds a new dimension to the holiday concept with rooms of different widths, spa service and state-of-the-art game centre. Located in Kyrenia, the hotel is a good alternative to a peaceful holiday alone with the sea. In its numerous restaurants, you can try the unique tastes of world and Turkish cuisine. Among Cyprus hotels, you can increase the motivation of your employees with Kaya Palazzo, which has a quality that you can also choose for your business organizations.