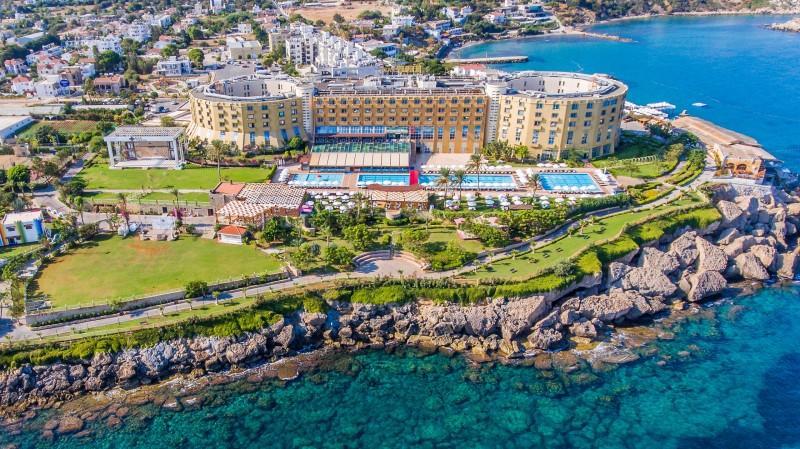 Northern Cyprus, which is the second largest island in the Mediterranean, is a center of attraction with its beaches which stand out with its azure sea, natural beauty and lush nature. Northern Cyprus Family Hotels are available on the island, which has many accommodation opportunities for a completely different holiday experience, where crowded families can easily stay. Families with children are very careful about choosing a hotel. For this reason, many hotels have areas where children will spend time without getting bored. You can make your choice of facilities, taking into account your taste and budget.
Acapulco Resort Convention Spa Hotel
Located in Kyrenia, a favorite district of Cyprus, it stands out for its close proximity to the sea, as well as its services for families. If you have a crowded family and are looking for a comfortable holiday, you can choose this resort. It offers free accommodation for its tiny guests according to different age groups and number of children. Welcoming guests in all seasons, the resort has swimming pools, including indoor and outdoor, next to the beach. It offers many fun activities for both parents and children of different age groups. Especially you will never want to leave the amusement park. The facility, which is also very ambitious in terms of eating and drinking, has Sunset Restourant. It hosts its guests with an all-inclusive concept among Northern Cyprus Hotels.
With 285 rooms, this property offers you incredible opportunities for a great holiday. All kinds of services are available, from fun water slides to casinos. Whether you are a romantic couple or a crowded family, there are rooms to suit your needs. You can comfortably stay in its rooms decorated with modern furniture. On the other hand, in this child-friendly facility; There are activities such as children's pool, children's animation, mini club that will both support personal development and provide plenty of fun. The property also has a farm. You can spend time with our animal friends on the farm and feed them with your hands. You can enter the sea and sunbathe on the private beach right in front of the property. The hotel stands out among Kyrenia hotels with a restaurant where you can find the most delicious dishes of Mediterranean cuisine and a bar section where you can sip your drinks. You should also try vitamin drinks, especially fresh fruit and vegetable juices.
Salamis Bay Conti Resort Hotel
Offering a modern holiday opportunity in the historic Famagusta district, it offers you a stay with its all-inclusive concept. Moreover, in family rooms, most of which have sea views, you can enjoy the warm environment of your home. Apart from the standard rooms, there are also villa-type rooms. Offering privileged options for children, the resort has not forgotten its tiny guests. It ranks first in the list of the best hotels in Northern Cyprus for a full holiday experience with fun cultural and artistic activities, dance and music school organized for them. As your children take a journey in their own world; you can also enjoy the sea, sand and sun. The hotel also hosts various sports such as water sports, tennis, badminton.
Kaya Artemis Resort Hotel
If you want to get away from the intensity of work with the tiny members of your family and relax, you can make your choice in favor of this facility. As can be seen from its name, the property, which affects its guests with its architecture similar to the Temple of Artemis, opens the doors of a luxury holiday. It attracts attention with its private swimming pool and fun playground reserved for children. While you enjoy sipping your coffee, your children socialize with their age groups and make new friends. You can also check out the budget-friendly Kaya Artemis campaign packages. The on-site restaurant offers delicious meals, as well as healthy and hearty children's menus.