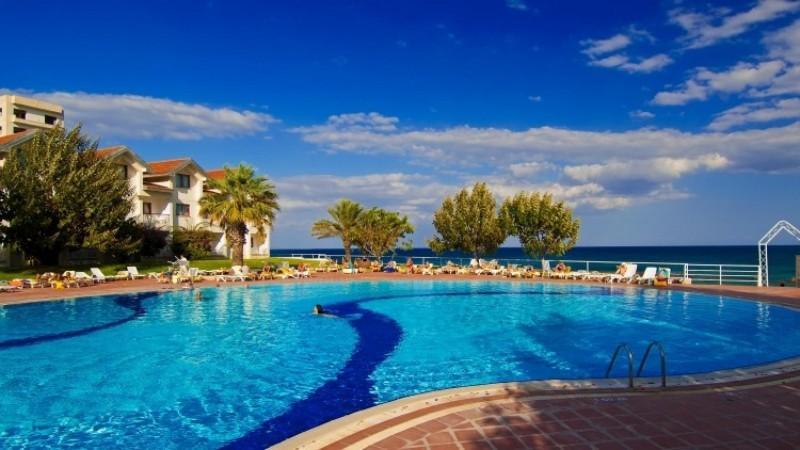 Salamis Bay Conti
Hotel
is located on the wide and long Salamis beach covered with fine sand of Northern Cyprus, 8 km from the city center of Famagusta and 49 km from Ercan Airport. Our facility, which was established on 65 acres of land, was renovated in 2010.
Salamis Bay Conti
is waiting for you for your dream holiday with its magnificent location, unique sea, joyful entertainments, flavors that will taste your taste and service satisfaction with its focus.
Salamis Bay Conti Resort
is located on the beach. You can enjoy the sea on the 200 m long beach. The resort has its own private sandy beach. You can watch the admiration of sunbathing on the beach and even go up to the beach and you can swim along with the snowball turtles will help you lay the joy of your holiday.
Salamis Bay Conti Famagusta
offers an all inclusive concept. It has a total of 517 rooms, 90% of which have sea views. The rooms and all enclosed areas are heated and cooled by VRV heating and cooling system. Park section, Club section, Main buildings and villas, accommodation units with compact (integrated) structure by removing the distance offers all services under your feet. In the main building 361 (8 suites and 353 standard rooms, 27 of the standard rooms are corner rooms and 63 are connecting rooms), villa section 44 rooms (23 standard and 21 top villa), 25 Club rooms, 87 rooms including the Park Department, the hotel has 517 rooms in total. A TV, wireless internet and telephone are available in standard rooms during your stay. Room service is available. Your room temperature can be adjusted with the central air conditioning / split air conditioner in your room. For guests staying in a triple room, a sofa bed is provided as an extra bed.
You can dine in the ala carte restaurant, outdoor restaurant and indoor restaurant.
Salamis Bay Conti
Cyprus
by joining our animation team, you won't believe how time went by. Pools, games, live music, spa, health center, game club and other facilities are waiting for you. Animation activities throughout the day, sports activities, beach parties, dance performances, sketches, Cyprus night, live music, night animation shows, pool games, belly dance courses, disco, DJ parties, children's disco, etc. were prepared for you.
You can have a pleasant holiday with 2 outdoor and 2 indoor swimming pools. You can spend a good time by water sports with the catamaran. There are diving schools and cycling facilities for action-loving holiday makers. There are special areas where football, billiards, tennis and mini football can be played. Relax in the spa which is at the Hotel and enjoy the massage services and feel refreshed. It also offers Turkish Bath, Sauna, Massage Salons, Beauty Salon, Steam Room, Indoor Pool and Recreation Halls. You can benefit from the doctor, photographer, beauty salon, hairdresser, market, car rental services. Disco and bar are available at the Hotel for guests to enjoy.
There is a game club at the
Salamis Bay Conti Hotel North Cyprus
. You will enjoy playing games at the Salamis game club, which is full of glory and equipped with the latest technology and games. The luxury fleet of Mercedes vehicles brings you to the unique atmosphere of Salamis game club. Salamis game club is designed to offer its guests a comfortable playing environment with a free buffet and A'la carte restaurants. In this pleasant atmosphere, 1 VIP lodge, 135 machines with the latest technology, 16 game tables.
The Salamis Bay Conti North Cyprus
offers a wide range of meeting rooms, equipped with the latest technology systems and equipment, which host grand events, invitations, meetings and conferences. At
Salamis Bay Conti Hotel Famagusta
, we are at your side with our experienced staff and professional service to ensure the perfect organizations.
#Salamis Bay Conti Package Holidays #Salamis Bay Conti Hotel Famagusta Cyprus #Salamis Bay Conti Hotel Booking