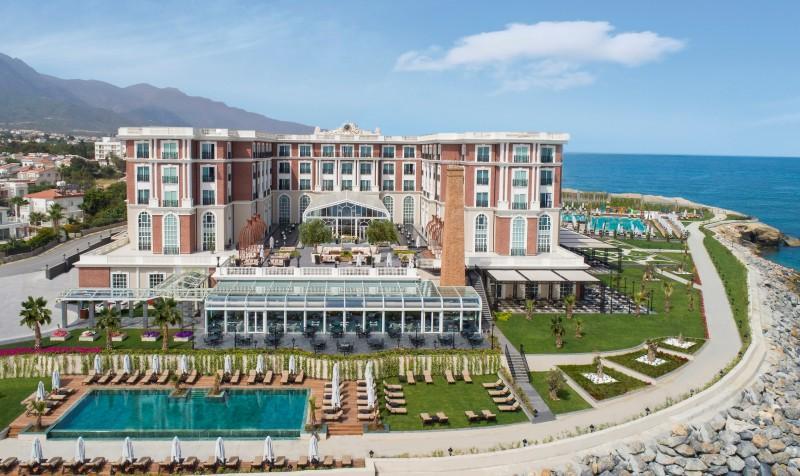 When it comes to a unique holiday, the luxurious hotels and places with unique views come to mind. Cyprus, where you can have a holiday with your family and individually, is a complete holiday paradise with many port cities and luxury accommodation facilities. In the rest of our article, you can find some of the hotels that will offer you plenty of activity opportunities for your children and a unique resting opportunity during the holidays you go with your family.
Kaya Palazzo Resort is a 261-room hotel located at the seafront in Kyrenia. The hotel best meets the concept of luxury. You can have an unforgettable holiday at the hotel with its rooms with different concepts and restaurants that offer unique tastes from world cuisine. Kaya Palazzo Resort is a resort that truly deserves to be appreciated with its friendly staff and spa staff trying to provide a perfect holiday. Activities where young children can spend time without getting bored and special areas such as a game room are also available at the hotel. So we can say that there is no hotel.
Sun Residence, which offers beauties that you can call my mansions again if I go to Cyprus again, is located in Nicosia with its location close to the center. It is a facility close to shops where you can shop and cafes where you can sit and breathe. There are also decent environments that include personal areas such as sports halls and business centers. You can choose this luxury hotel for business trips and holidays with your family.
Concorde Luxury Resort & Convention & SPA
Concorde Luxury Resort, which has a long and wide beach by the sea, is located in Bafra and 22 km from the center of Iskele. It is a hotel that has made a name for itself especially in terms of cleaning. For mothers who want to breathe a little easier, babysitting service is provided here, as in other luxury hotels. Live music and special programs are offered to you in the evenings.
Other Luxury Cyprus Hotels
Merit Crystal Cove Hotel Casino, located in Alsancak, is one of the main facilities that have adopted the principle of providing quality service. The hotel offers you the privilege of luxury accommodation with sea view rooms that offer special facilities for honeymoon couples. You can also choose this hotel to see caretta carettas by the sea.
The Arkın Colony Hotel and Rocks Hotel & Casino await their guests in Kyrenia as other luxury facilities worth mentioning.
If you want to experience a luxurious holiday in Cyprus, you can get to know the luxurious places closely during the remaining times of your hotel activities.
Located in Kyrenia, Northern Cyprus, the restaurant serves you as an extremely friendly and sincere place. The restaurant, which has a distinct beauty in every season, gives its guests very special moments with its wide menu and a variety of international flavors.
Ezic Premier has more than one branch in Kyrenia. Ezic is one of the places that should be mentioned in terms of both location and customer satisfaction. The place welcomes its guests in a nostalgic atmosphere with a selection of delicious menus.