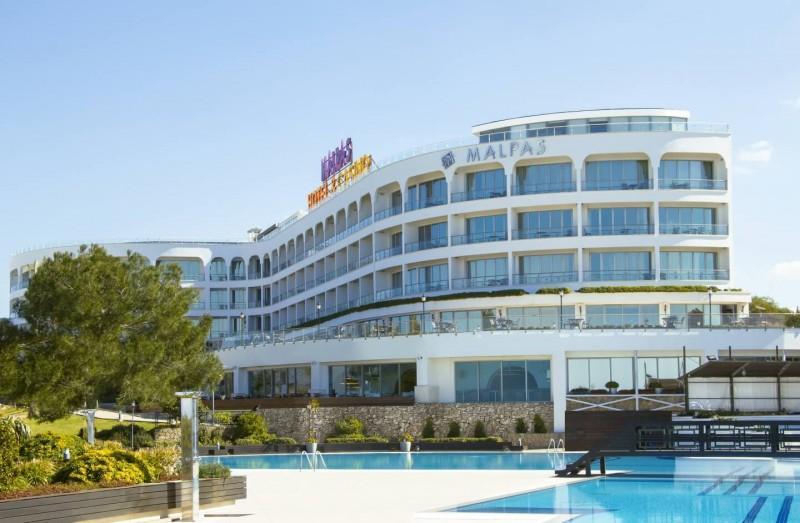 Malpas Hotel
is located in Kyrenia, one of the most charming villages on the northern coast of Northern Cyprus. Offering the most memorable panoramic views on the island,
Malpas Hotel Kyrenia
is a 20-minute drive from Ercan Airport and 60 minutes from Larnaca Airport.
Located near the famous Five Finger Mountains of the Mediterranean, our facility offers additional accommodation with mini-villas and bungalows with sea views.
Our rooms and suites offer sea or mountain views, while our other rooms overlook the Mediterranean beauty.

Rooms feature; They are tastefully equipped with modern amenities such as direct telephone, satellite TV, bathroom, room safe, minibar, air conditioning / heating. Each room furnished with a stylish architecture and choice of 7 different rooms prepared at the hotel for a luxury holiday.

Our facility includes a large and impressive pool, Health and beauty center with Spa center, indoor pool, gym, jacuzzi, hammam, sauna and steam room. It is also a giant complex with a hairdresser and a conference room where you can hold private meetings or celebrations such as weddings. The hotel offers free use of spa and wellness center the sauna, jacuzzi and Turkish bath, but massages will be paid. You can get help from professional teams who can create a massage program for you. Besides different applications, there are the beauty programs are also available.

One of the best activities you can do is to relax your body. Spa Health & Beauty center offers facilities such as a sauna, jacuzzi, Turkish bath and steam room. Our fitness center which we serve with full capacity is located within this center. We have professional team members to help you in the field of fitness. If you want to shine with the glow of night life, you can join one of the Club Mansion, Cotton Jazz Bar and live music activities. You can try your luck at the hotel where our game play service is available.

Beach Club Malpas, which is the most equipped and preferred for its quality, is located within the hotel.
Malpas Hotel in Cyprus
is close to other beaches including its private beach and other attractions. Its own beach is only 2 km away from the hotel. There is a giant pool in the central building.
Fontana Restaurant:
Our main restaurant serves breakfast, lunch and dinner. Provides meticulously different alternatives from local tastes to international cuisine. The Malpasia Terrace is also open all day.
Cornaro Fish:
Alongside the private Malpas Beach, with indoor and outdoor seating areas, luxurious and elite restaurant Cornaro with variety of seafood and appetizers, local and foreign drinks, on Kyrenia coast with its unique scenery and sounds of the waves of the sea, you can feel the Malpas Hotel quality.
The Cotton Jazz Bar:
The patisserie offers homemade Cypriot delicacies with its warm and cold food and great atmosphere with views of the Mediterranean and Kyrenia mountains. In the city's unique scenery, The Cotton Jazz Bar is the ideal atmosphere for jazz lovers. While sipping your drink, you'll also listen to live jazz performances. The Cotton Jazz Bar hosts various groups throughout the year.
Baby and child care:
In order for our little guests to have a fun holiday, the animation team is working during the summer. There are professional carers for children and a playground for children to spend time.
Malpas Hotel Honeymoon Concept:
Couples who want to take advantage of the honeymoon package must show their marriage certificate during check-in for a stay within one month of the date of marriage.