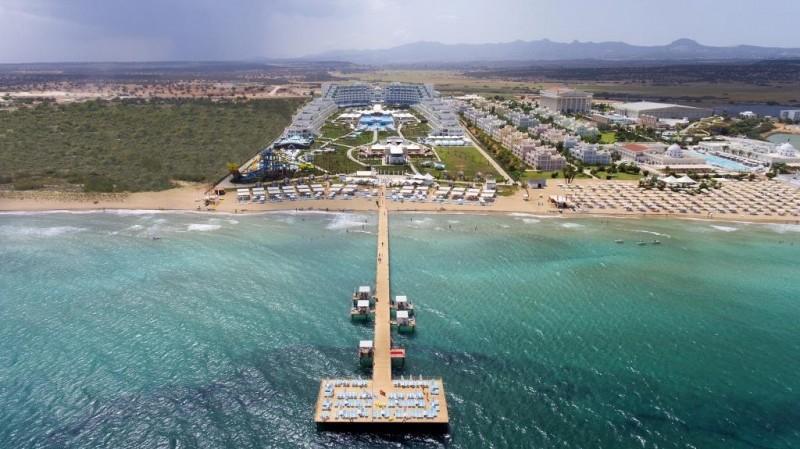 Limak Cyprus Deluxe Hotel
, which was opened in 2017 in the North Cyprus Bafra Tourism Region, was established on an area of 120.000 m2.
Limak Cyprus Deluxe Hotel 5*
serves our guests with ultra all inclusive concept.
Limak Cyprus Deluxe Hotel & Resort
is 69 km from Ercan Airport, 80 km from Nicosia, 85 km from Kyrenia and 40 km from Famagusta.
Limak Cyprus Deluxe Hotel
, which offers its guests a four-season holiday due to Northern Cyprus favorable climate throughout the year, has become a popular hotel in congress tourism and game club tourism areas. The deluxe rooms with all kinds of technology and comfort, the restaurants where the finest dishes of Turkish and world cuisine are served, the SPA center, where different therapies and care treatments are offered, have provided every comfort for its guests to have a comfortable and enjoyable holiday. With its indoor pools, extensive mini club and junior club facilities, Limak Cyprus Deluxe Hotel is a privileged and special hotel for all ages.
Limak Cyprus Deluxe Hotel
, the newest hotel in the Limak hotels chain, is inspired by the unique service inspiration from the legend of Zümrüd-ü Anka.
According to the legend, egg-shaped stone in Ciklos location, which is called by Kyrenian as Topaktaş or Egg Stone, is the last egg of Zümrüd-ü Anka. The Phoenix sat in the hatchery for days, and when he left the nest in search of food, the egg rolled down. It is said that the myth of the Zümrüd-ü Anka has thus ended.

Zümrüd-ü Anka, in all its glory, symbolizes the rebirth of this myth. It inspires people to recreate and refresh their time during holiday.

Limak Cyprus Deluxe Hotel Bafra
offers 598 rooms with alternative accommodation, 1338 beds capacity, ultra-inclusive concept to redefine luxury in Cyprus.
There are four swimming pools, one indoor pool, an aqua park, one open buffet, the other three are A'la carte restaurants.
Limak Hotel North Cyprus
offers a year-round holiday in North Cyprus, deluxe rooms with all kinds of technology and comfort, restaurants serving the finest Turkish and international cuisine, spa center, indoor and outdoor pools, aqua park with seven slides, mini club facilities and The Babylon Convention Center hosts its guests with its comprehensive and excellent organizations.
Limak Cyprus Hotel
is located near the sea. The resort has its own private sandy beach.
The resort offers catamaran activity to enjoy water sports. There are billiards and bowling areas at the Hotel. The hotel has a doctor, a hairdresser, and a market as paid services. For your pleasant stay the hotel has a disco and bar.

All rooms have central air conditioning / split air conditioning, TV, wireless internet, telephone and room safe.

Restaurants:
Limra Restaurant, Atlantis Snack, La Patisserie, Arcadia A 'la Carte Restaurant, Dynasty Far East Restaurant, Mysia Restaurant.
Bars:
We provide the best service to our customers with our Bellapais bar, Eurasia Bar, Barnabas, Lara Pool Bar, Tea House, Beach Lounge, restaurants and bars.
Babylon Convention Center:
Babylon Congress Center with a total capacity of 5000 people in the service of professional groups with 9 meeting rooms. Babylon Convention Center; congresses, meetings, seminars and launches such as the most efficient way to conclude the organization has the necessary technical infrastructure, but also serves our experienced staff groups.
Pools:
Limak Cyprus Deluxe Hotel Vokolida has a total of 4420 m2 indoor and outdoor pool.
Our heated indoor pool offers a very large pool with an area of 1400 m2 for our guests staying in the winter months and our indoor children's pool is also serving our little guests.

Aqua Park:
With its slides that are the first in North Cyprus and the height of nineteen meters, our aqua park promises fun and excitement for all our guests.
Animation:
Our animation team will be with you with activities and shows to entertain our precious guests all day and night.
Our team is working to make your holiday in joy and continues its activities and shows all year round.

Caretta Disco:
During the summer months between 23:00 - 02:00 in the beach area, we want you to have a fun of mediterranean night.
After Ten Disco:
During the winter months, our entertainment continues between 23:00 and 02:00 in our hotel.
Fitness:
Our fully equipped fitness center Chiva SPA is waiting for our wellness and sports guests.
Kids Club:
The indoor mini club invites our small guests to entertain during the winter months. Our children's entertainment pool in front of the summer mini club offers a special experience for our guests aged 4-12.
Sports - Tennis:
Our company has a fully illuminated, hard floor and tennis court at your service. Guests can request tennis lessons for a fee and rent a tennis racket.
Sport Activities:
Beach volleyball, table tennis, darts, mini golf, open field checkers, dance courses, basketball, open space chess, pool gymnastics, water polo, pool and beach games, daily tournaments, tennis activities such as the opportunity to spend time of our customers.
* Only available in summer.
With our spa programs we offer relaxation, revitalization and rejuvenation. Discover the unique world and luxury of Chiva Spa. You can enjoy the traditional Turkish bath with its Turkish Bath Rituals and its unique health. The healing effects of massage rituals on our health have been known and used for thousands of years. Chiva Spa offers a variety of options from traditional massage to modern massage techniques.