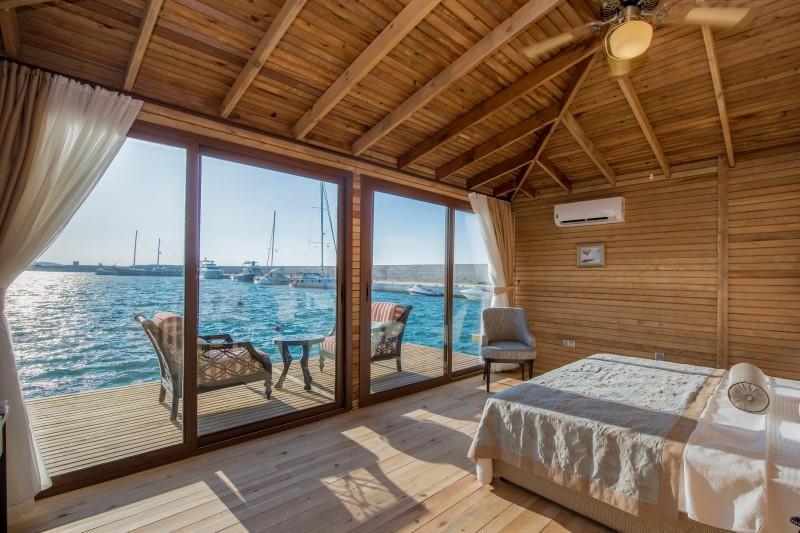 Les Ambassadeurs Hotel
is a seaside resort in Kyrenia, North Cyprus. 2 km away from Kyrenia city center. The facility, which is built on 20.000 m2 area, consists of 4 storey main building (Standard and Suit rooms) and game club. The total number of rooms is 70 and the bed capacity is 140.
Designed in oriental style, large and spacious lobby, lobby bar, Vip bar, reception, 2 elevators, 1 main restaurant, 2 A'la carte restaurants, various bars, Barber service, Health Center on a 1,000 m2 area, Sauna, Turkish bath, with wireless internet connection is a resort-quality hotel.

24-hour room service, direct dial telephone, central air conditioning, satellite LCD TV, safe, bathrobe, Hermes, Roberto Cavalli, Trussardi, Aqua di parma shampoo sets, bathroom, balcony, hair dryer, minibar (chargeable), Delonghi kettle and Nespresso machine, card key system and special butler service are available in the rooms.
Breakfast, lunch and dinner buffet meals are free. Within the brands determined by the facility, local alcoholic and non-alcoholic beverages are served free of charge only during the meal. All other beverages throughout the hotel are chargeable. Medusa A'la carte restaurant must be booked in advance and this restaurant is chargeable.
The Les Bistronemes & Sushi Bar, Bistro Restaurant, serves special coffees and a food menu at the patisserie.
MEDUSA - The Italian Restaurant is served with golden cutlery, accompanied by Michelin-starred chef from Italy, and Medusa A la Carte Restaurant is open from 19.00 to 22.00.
"INFINITY" Pool Bar serves between 10.00-24.00 hours in the lobby terrace. "INFINITY" Snack Restaurant For lunch with the sea and the pool view serves between 12.30 and 18.00.
The Lobby Bar is open from 08.00 to 24.00 on the Lobby floor.

Spa & Wellness Facilities;
In the Spa Wellness section; there is a hammam, jacuzzi, pouch & foam and massage service.
Activities; Les Ambassadeurs Hotel Kyrenia
has a game club.
Free Services;
Indoor Restaurant, Reception Service, Lobby, Parking, Currency Exchange, Wireless Internet, Outdoor Pool, Indoor Pool.
Paid Services;
Game Club, Lobby Bar, Spa Center, Hammam, Massage, Pouch and Facial Treatments, Jacuzzi, Hairdresser, Massage & Pouch, Beauty Center, Doctor and Nurse Services, Dry Cleaning, Laundry, Car Rental, Photography Services, Phone, Birthday Cake and Flower Orders, All Freshly Squeezed Juices, Room Service, Imported Champagne, All local and Foreign Bottle Wines, Luxury Drinks, Whiskeys, Cognac, Special Production Domestic and Foreign Wines, A'La Carte Restaurant, Late check-out (subject to availability), Babysitting (reservation required).
Les Ambassadeurs Hotel Northern Cyprus Honeymoon Concept
Ambassadeurs Hotel Girne
signature massage (50 min) for 2 people for 1 day is free during the stay. A'la Carte restaurant for 2 people for 1 day is free during the stay. Turn down service is available.