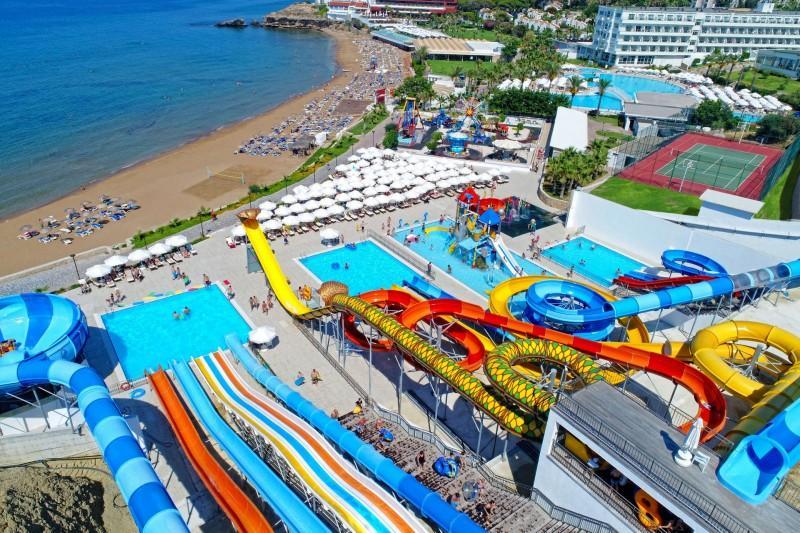 Kyrenia Hotels with Aqua Park
When choosing among Kyrenia Hotels, you should prefer the Hotels with Aqua Park for unlimited entertainment. Aqua parks take the pleasure of swimming to whole another dimension. You can find some of the aqua park hotels in Kyrenia, where you can experience a comfortable accommodation and entertainment together.
Acapulco Resort Convention Spa
It is possible to reach Ercan Airport in 20 minutes from the hotel. So you do not have to worry about transportation or traffic. You can easily reach both on your arrival and departure. Being close to the historical and touristic spots of Kyrenia will make your holiday more enjoyable.
Acapulco Resort Hotel has privileged rooms for your stay. While Hotel Restaurants bring you together with the most delicious flavours prepared by Master Chefs, its bars also will make you appreciate signature drinks. Activities, which children will have the best time ever, are carried out in the hotel under the observation of expert trainers. The Hotel's Aqua Park provides service in a wide area with 24 different slides.
Do not forget to relax your body and soul in the Hotel's Spa and Fitness Center. You can also calm your body with massage alternatives as you deserve after a long year busy with work and daily rush. Feel free to keep your body in shape in the Fitness Center where all equipment are brand new and up to date. The hotel is located in a large botanical park that you have to see at least once in your life.
Elexus Hotel has a very large Aqua Park built on an area of 6000 square meters. There are 24 water slides in the park. A pool with children slides along with colourful characters is also located in the Aqua Park area. The working hours of the aqua park are determined according to seasonal conditions.
Hotel rooms have eye - catching details. Every each room category has a magnificent design and comfortable furniture as a part of different concepts. Along with Standard and Deluxe rooms, the Suite rooms offer more spacious area and comfort.
Open buffet and A la Carte Restaurants allow you to meet exclusive tastes. You can taste the most special flavours from different kitchens of the world at the hotel. You can enjoy alcoholic or non -alcoholic beverages with different snack options at the Hotel's bars. You will be surprised by the rich beverage menu.
There are two water slides at Oscar Resort Hotel. One of the slides is for one person. The other one is suitable for 5 people to slide at the same time. It is located right in the palm trees. With its outdoor Jacuzzi, penguin shower and special playgrounds for children, everything you may need for a pleasant holiday is provided by the hotel.
The Hotel makes every moment unforgettable with its simple and stylish rooms and restaurants. You can go on a tour of Kyrenia thanks to its close location to the historical and natural beauties of Kyrenia.
Riverside Garden Resort Hotel
There are four slides in the Aqua Park of Riverside Garden Resort Hotel. There is also a tunnel slide which is suitable for both adults and children to have pleasant moments. You can play volleyball and basketball with your family or friends on the hotel's courts. Feel free to go on a tour in Kyrenia by walking or bike. You can also have an action - packed day with the opportunities provided by the Hotel such as paintball or diving.