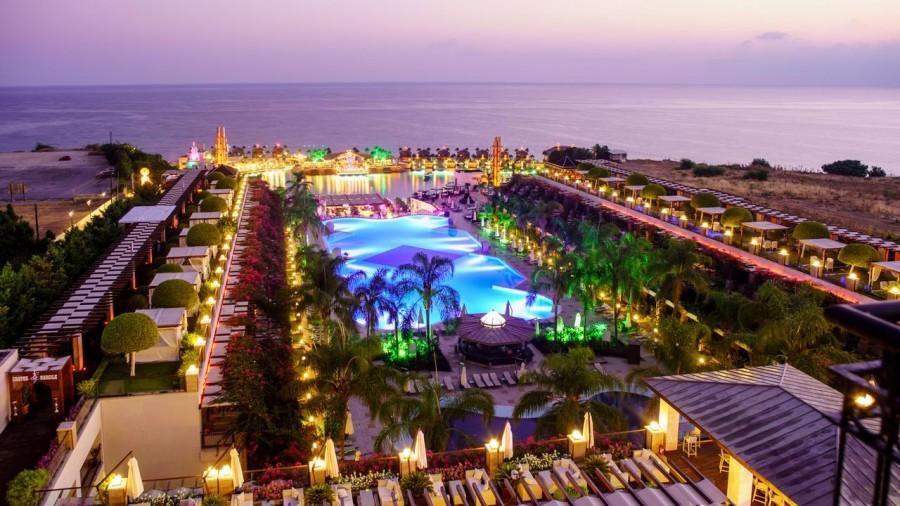 Kyrenia, one of the most visited and preferred cities of Northern Cyprus, will host millions of holiday-goers this year as it does every year with early booking options. If you have, too, started to make your holiday plans and wish to seize the cosiest holiday deal, you should check a few hotels to choose from.
Kyrenia hotels are the first choice of many holiday-goers with their comfortable rooms, upbeat night-life and, of course, with their casinos. You can start to look for Kyrenia hotels for a holiday better than you could imagine, as well.
So, what kind of a hotel should you choose?
All inclusive hotels are the most preferred hotels in Northern Cyprus. With their comfortable room options, they will provide you the most pleasurable holiday. You should also note that breakfasts, lunches and dinners are presented at open-buffets and that you are presented with the most delicious food in variety in a kitchen that would allow you choose anything you might be looking for.
In ultra all inclusive Northern Cyprus hotels, you can have the opportunity to degust any flavour you can dream of without any limitations on food and kitchen and you can choose any and all delicacies appealing to you.
Seaside resorts are the first that comes to mind when it comes to Northern Cyprus and they are the most selected in the beautiful island of Cyprus. The pleasure of sea, beaches and sun is unique in Cyprus. You, holiday-goers, will be able to experience that first hand in Cyprus.
Honeymoon hotels are another category of hotels in Kyrenia you can choose from. Northern Cyprus Honeymoon hotels will greet their customers with their ornamented rooms and complimentary services special for newly-weds that are different from standard room concepts
Booking2Cyprus allows you to make your Northern Cyprus hotel reservation quickly with early reservation deals and special honeymoon discounts.
We suggest you to look for promotions and deals at Northern Cyprus / Kyrenia hotels to have a sweet holiday with your beloved ones. We are at your service 7/24 for Northern Cyprus hotel, transfer and tour services.
As Booking2Cyprus, we present you with all holiday alternatives with over 100 hotels we have agreements with. Booking2Cyprus made a list of best Northern Cyprus family hotels, all-inclusive hotels, bungalow options at Karpasia, and boutique hotels of Kyrenia, 5-star hotels of Bafra and Nicosia hostels for you.
Make sure to visit Booking2Cyprus website before making your plans for your holiday at Northern Cyprus in order not to pay more.
If you want to open the doors of this bright and colorful luxury hotel, which is located in the Çatalköy area of Northern Cyprus and is almost an entertainment island, you can immediately you can book through the web page booking2cyprus.com. Cratos Premium Hotel, which wants to give its guests a holiday experience where the entertainment never ends, aims to provide you with unlimited service with its friendly staff.

Located in Cyprus all-inclusive hotels, the hotel offers delicious dishes to the taste of your esteemed hotel guests. You can have very pleasant moments in the morning, lunch and dinner served as a buffet against the unique Mediterranean view. In addition, for a romantic dinner, you can choose the one that best suits your taste buds from the A'la Carte restaurant options with different atmosphere and experience great moments with your family or loved ones. During the day, when you are overwhelmed by the scorching heat of summer and want to drink something refreshing and eat snacks, you can try the bars located by the pool.
Located among Northern Cyprus seafront hotels, the property offers its exclusive beach and clear sea and the beauty of yellow sands to its distinguished guests. You can also enjoy the sun at the same time while relaxing on comfortable sunbeds for a pleasant day. For a pleasant day, you can relax on the comfortable sun loungers and enjoy the sun at the same time. On the island, named Coco Bongo, where private pavilions are located, there are great areas where privacy-loving guests can spend time comfortably. At the same time, this luxury and magnificent hotel, operated with an unlimited service concept, offers you a privileged massage service in private cabanas located on the beach.
Entertainment in Cratos; you can witness an unusual nightlife in the hotel, which is famous for its colorful and fun shows. You can lose yourself under the influence of continuous dancing and light games until late at night. Cage Club gives you an incredible night entertainment experience with its world-class special sound and light system.
Cratos Spa Center; when you want to get rid of the negative energies accumulated on you and relax, you can use the huge 3,000 m2 spa center. You can make an appointment immediately for experienced and cheerful staff to apply therapies that will leave a good effect on your body and soul. Guests who don't give up the traditional style can have the scrub and foam ritual in the Turkish bath. In addition, you can participate in care practices with quality products for a clean and fresh skin and pamper yourself while on a Northern Cyprus holiday.
Honeymoon Opportunities in Cratos; The resort, which is often preferred by honeymoon couples, fascinates you with its luxurious facilities and unique privileges. You will appreciate the services starting with the special room decorations of the hotel and continuing with the colorful and delicious treats. If you want to pamper yourself and your partner, you can have Breakfast in your room in the morning and reserve an A'la Carte restaurant for a romantic meal in the evening. You can have a great honeymoon holiday with this magnificent facility, which shows its difference between Northern Cyprus honeymoon hotels.
Transportation to Cratos; The facility, which has an extremely convenient location, is located in the Northern Cyprus Kyrenia Çatalköy region. It is very close to places to visit in Northern Cyprus due to its distance of 5 kilometers from the center of Kyrenia. At the same time, Cratos Premiun Hotel is 32 kilometers from Ercan Airport.
Cyprus hotels continue to offer great holiday opportunities for individuals who have an ordinary life or a busy business life. You feel that your life is now beginning to become monotonous, and you want a change in your life. Of course, the most ideal option to create this change is usually a small holiday getaway. As booking2cyprus.com, we aim to satisfy your curiosity about where and how you will stay while on a vacation on an island like paradise. In this article, we take you from this land to a completely different land within the Elexus Hotel. So let's look at the details together.

A completely different holiday experience with Elexus Hotel
You are in a resort located almost as if it guards a charming view. You can witness the sea view from every corner. You're looking from the balcony of your room. Here's the view you'll see: the horizon line, which marks the separation between the Sea and the sky, and it's completely blue. But here, even the horizon line does not seem to have the guts to separate these two beauties. We can even say that it fulfills its duty by providing a smooth transition. Enjoy this view or swimming in the sea in the long bay of the hotel. As you can cool off in the deep blue sea, you can create a different entertainment area for yourself with water slides in the pools of the facility.

Meet Real Entertainment at Elexus Hotel
You said hello to a brand new day where you feel refreshed after having a wonderful night in your room in comfort. Like every day, there are many fun alternatives before you today. So you spend as much time as you want in the areas of your desire. Additionally, without knowing what it's like to be bored. Especially with entertainment platforms suitable for all ages, Elexus Hotel Cyprus draws you into a completely different world. You are exploring many different aspects of activities on the seashore that will bring your adrenaline level to the highest. At the same time, you will increase your health during your holiday with sports activities outside the beach and inside the facility. Table tennis, tennis, volleyball and fitness center are examples. Thanks to animation and live entertainment, your enthusiasm will reach to a never-ending depth. Here, first your heart will be fed, and then it will be your turn to feed your stomach. At this point, you will be able to find any kind of food you want in front of you without even taking a step outside the facility. You will experience wonderful dishes with chefs who dominate world cuisine and create wonderful tastes.

You can feel the advantages offered by the hotel in every area from the moment you take your first step. Everything happens so easily here that even you often can't help but be surprised. There are moments when you feel like you are in a magical world. That's the result of the facility having already thought about everything without you having to think about anything. If you have a child and you are afraid that the holiday will be ruined, let's say: There is no place for that fear here. In the best part of the holiday, there are times when our children often say that they are bored. Within the borders of Elexus Resort, your children won't have the time or opportunity to be bored. Areas specifically designed for children are coming to our aid at this point. The moments when you, as parents, fall under the spell of the holiday will not be interrupted because of your children. Your kids will never bother you, as the kids club is a world where kids learn while having fun with their peers. They are also safe. The children's Park and pool are also in front of us as other areas that create times of unique beauty. Elexus Hotel is a choice that makes the real meaning of the holiday with everything in terms of price performance. If you want to stay away from everything and everyone and just stay with yourself and have a great time, you are at the right place. What are you waiting for if you are ready to manage time in this place that will leave unforgettable memories in your memory?

Kaya Palazzo Resort & Casino is the unchanging address of a luxurious and enjoyable holiday in Northern Cyprus all season long. It promises a great holiday where guests of all ages will accumulate many memories. Located in Kyrenia, Northern Cyprus, built with beautiful, stunning and luxurious details, the facility proves that it is in a very convenient location with a distance of 1 kilometer from Kyrenia Center, 30 kilometers from Nicosia center and 40 kilometers from Ercan airport.

Kaya Palazzo Resort Privileges
You, the distinguished hotel guests, who prefer to stay in this luxury hotel, can easily visit the places worth seeing in Northern Cyprus. In Kyrenia, the Pearl of Cyprus, the only address for small getaways that you can easily go to every season of the year can be nothing more than this magnificent hotel. Everything about happiness and luxury on vacation is guaranteed to be found here. In the cool waters of the turquoise blue sea with great beauty, you can leave all the negative energies that has accumulated on you. You can enjoy the Mediterranean sun in private white pavilions or in comfortable sunbeds located on the pier. Among the 5-star hotels in Northern Cyprus, the pools of the resort, which always know how to win your appreciation, are also candidates for giving its guests quite fun moments. Those who want to have a different experience can play games at the hotel's casino. In this wonderful Hotel, time almost never stops. After enjoying the sea and sun during the day, you can also get ready for great parties, DJs and music performances at night. Kaya Palazzo Hotel is always the perfect address for a fun holiday.

Kaya Palazzo Resort For An Unforgettable Holiday
In the facility where gourmet delicacies are prepared with great care and presented to you, there are food options suitable for all guests. You can enjoy very romantic dinners in the different ambiences of A'la Carte restaurants. When you desire something refreshing, you can choose one of the stylish and flashy bars to try special blend drinks prepared by bartenders for you, our valued guests. When you need rest, you can try any of the comprehensive massage treatments for your tired soul and body without hesitation. You can start pampering yourself at the spa with its expert staff. To say hello to a brand new, purified skin, you can start the change immediately by making your care appointment. This unique facility takes its place among the top hotels with luxury amenities preferred by couples among Honeymoon Hotels in Nortern Cyprus and aims to provide you an unforgettable holiday experience. To enjoy all these special privileges you can immediately get your place and enjoy unlimited entertainment by booking from booking2cyprus.com website.

#Kyrenia Hotels #Northern Cyprus Hotels #North Cyprus Hotels