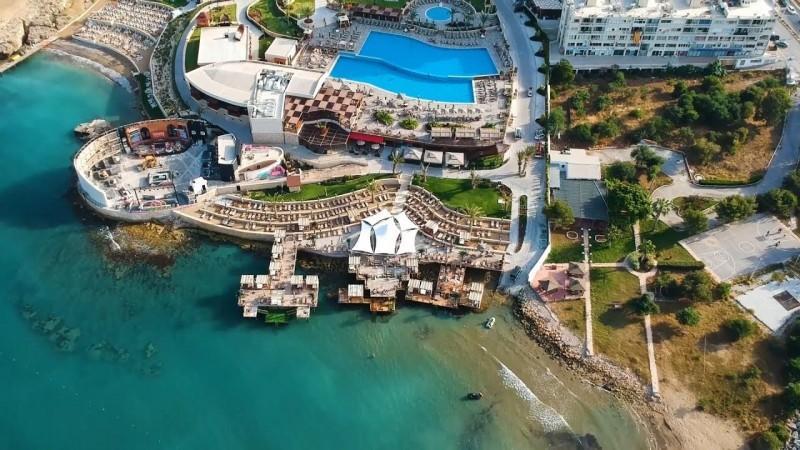 As the name of the hotel points out,
Lord's Palace Hotel
aims to make you feel at the palace of the masters. The facility, which is established on an area of 50 thousand square meters, has 250 rooms in total with a capacity of 500 beds, a private beach of 470 square meters and a pier. Lord's Palace Hotel & Spa promises you an unforgettable holiday with its comfort and elegance. Lord's Palace Hotel & Spa, where you will enjoy the sea and the sun and spend some quality time with entertaining performances and concerts in the evenings, makes your dream vacation come true with its 5 star comfort. With the All Inclusive Hotel concept, meals are served in open buffet form in accordance with the expectations of the guests at all hours of the day. The alcoholic and non -alcoholic beverages within the Hotel concept are served free of charge in the main restaurant. Standing out with its seafront location, the hotel was opened in Kyrenia in 2016 and operates with Ultra All Inclusive concept. Offering a view of Bella Marin, the most favourite entertainment address of the Mediterranean, the Five Finger Mountains and Kyrenia, Lord's Palace is suitable for every accommodation with its comfortable and stylish A la Carte Restaurants, beach, Bars and meeting halls among Northern Cyprus Hotels. It is one of the best and luxurious hotels in Northern Cyprus. The Resort is also among the few Northern Cyprus hotels which has a private bay.
The hotel, which makes its difference in terms of food and beverage, offers delicious cuisines to its guests. You will be able to have your holiday with the food you want due to its wide range of open buffet restaurants, where everyone can find something to eat as they wish. Besides the taste, the hygiene is also very important. So every dish is prepared by the Master Chefs with great care. If you wish to take advantage of the room service, you can connect to the reception via the phone in your room and they will guide you. In this way, you can have the meals you want without interrupting your comfort, entertainment and privacy in the room. Kömür Steak & Ocakbası A la Carte Restaurant (Steak & Grill); It is the first restaurant to operate within the Bella Marin project. Kömür Steak & Ocakbaşı, which opened its doors on December 15, 2016, has been the most preferred restaurant in Northern Cyprus since the first day it was opened. Serving in Historic British colony's Yellow Stone building, Kömür A'la Carte is a unique restaurant that makes a difference with its blended meats with Himalayan Salt, from 11 to 24 days rested meat and kebabs in Dry Age cupboards and located on the island with an amazing ambience and design. The restaurant operates between 18:00 - 00:00.
There is a kids club which offers workshop activities for children between 0 - 12 years old, board games, a sleeping room, computer games and operates between 09.30 and 12.30. In addition, a paid babysitter service is provided in the Hotel. You can trust our experienced and qualified Kids Club personnel with your children. Order yourself and your partner a signature cocktail from the Sky Bar and witness the unique view of the sunset with your loved one at the Sky Roof Pool, which is located on the 10th floor. After the sun is down, eat your favourite fish products at Khephal Fish A la Carte Restaurant and enjoy your romantic dinner. For perfect ending, you can relax in the Lord's SPA & Wellness with your partner to relieve the tiredness of the day.
Lord's SPA & Wellness is located on an area of 1000 square meters. This health center offers features such as an indoor pool, Turkish bath, therapy room, Fitness Center, hairdresser for men and women, scrub & foam and massage treatments. In addition to special implementations, therapies, face and body anti - aging treatments and various massage services are also offered. In the VIP room, massage, Turkish bath and sauna services are provided to the guests. The Fitness Center and SPA & Wellness Center are open between 08.00 and 21.00. Lord's Palace Hotel also has a separate Spa & Welness facility called Shiatsu that offers only Far East massage and treatments. There are 4 massage rooms and 1 VIP massage room built on the sea. A pre – reservation is required and at an additional charge.
The hotel management, which does not forget about the honeymoon couples, carries out the check - in operations at the Sky Lounge & Bar, accompanied by fruit and frozen drinks for newly married couples. Lord's Palace Hotel & Spa offers room decorations, fruit plate, snacks such as chocolate -cookie plate and breakfast service to the room in the morning as a part of the honeymoon concept. In addition, a free dinner service is offered at Kömür Restaurant (only once during stay) in order to keep the romance of honeymoon couples to the maximum. The facility provides Late Check Out upon availability and give 2 printed souvenir photos (15 x 20) free of charge.
Among the free facilities of Lord's Palace Hotel, there are wireless internet, parking lot, reception service around the clock, Fitness Center, indoor and outdoor pools, sauna and Turkish baths, steam rooms, internet cafe, valet, business center, currency exchange, nurse, kids club, beach volleyball, aerobic activities, table tennis, Aqua Park, cinema, Pilates and animation activities. In the paid facilities of the hotel; the reception safe, dry cleaning, special massage treatments, Airport transfer, laundry, Jacuzzi, billiards, beauty center services, private babysitters, hookah, entrance to the game of chance room, extra water sports, special spa treatments, car rental, rooms for the guests with reduced mobility and doctor services.
Restaurants:
Main Restaurant, Le Petit Crossiant, 38 th Street Pizzeria, Kömür Steak & Ocakbaşı A la Carte Restaurant and Khephal Fish A'la Carte Restaurant.
Bars:
Sky Bar, Esquire Beach Bar, Aurora Bar, Mystique Sisha Lounge & Bar.
Congress Center:
Lord's Palace Spa Hotel is also the ideal address for those who want to have not only their holidays but also host their important corporate events with a stylish and attentive service. The facility, which has meeting rooms, offers unforgettable experiences to its guests in special events and organizations. It adds colour to gatherings and organizations in many different areas such as the ballroom with daylight, the terrace poolside, the Bella Marin lawn and many others. Majesty Ballroom with 500 square meters, Monarch Hall with 385 square meters, Bella Marin Grass Area with 1000 square meters, Sky Lounge & Bar with enchanting mountain and sea view, offer perfect and smooth organisations to suit every need and budget.
Pools:
On the 10th floor, there are 1 adult pool, 2 large entertainment pools, 1 children's pool, 1 indoor and heated pool.
Aqua park:
No.
Sky Lounge & Bar:
Combining with the magnificent view of Kyrenia and the sea, Sky Lounge & Bar features live music on weekdays and live DJ performances on Friday and Saturday between 22.00 and 02.00.
Location:
The facility, which is 37 km away from Ercan Airport, is only 1 km away from Kyrenia city center and 15 km away from Nicosia city center.