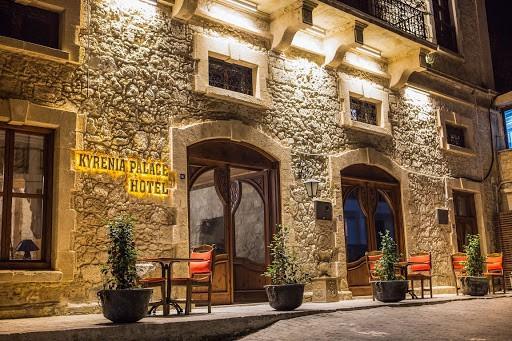 Kyrenia Palace Boutique Hotel
; It is located in Kyrenia city center in Northern Cyprus. Located just next to the historical Kyrenia Castle, 30 meters from the sea, just a few minutes walk from the city's shopping center and Kyrenia Harbor, our hotel is 43 km away from Ercan Airport.
Our facility made as host in 1889 and reaching up to now has been transformed into Palace Boutique Hotel Kyrenia from a private mansion in 1976. After being closed for a period, it was restored and opened in June 2015.
Kyrenia Palace Boutique Hotel Northern Cyprus has been carefully selected in 11 Deluxe and Suite rooms, with extraordinary antiques, precious furniture, chandeliers, wall clocks and even some oil paintings. Kyrenia Palace, with its unique architecture and décor, is a window that opens from the past.
Stylish rooms and suites with antique furniture and high ceilings, the restaurant, located in the ancient courtyard garden with its traditional Cyprus concept, offers you Mediterranean cuisine with its friendly service approach.
For our breakfasts from the surrounding villages, individually gathered products from gardens, you can eat with delicious warm village breads cooked with wood fire in authentic stone oven. Village jams, olives of the island, extra virgin olive oil, cheese varieties, thyme, sage, such as the taste of dozens of varieties of Cypriot lovers. We continue to surprise our guests with special snacks throughout the day.
Our chef and team, who grow up in our region, not only offer unforgettable meals to your table, but also love the local flavors on the island and offer romantic service. From the villages, gardens and nature, the individual selected vegetables, the island's coves, the seafood, local appetizers and flavors, and the rich Mediterranean cuisine from every corner of the minds and hearts are served at the table.
Turkish and world wines at your table on romantic Kyrenia nights, cocktails that reflect your style, champagne for special moments will witness unforgettable memories.
Spa & Massage; Massages that make you feel special, traditional massages, as well as world-famous massages are located in our spa center. The rest area, sauna and fitness department offer a free service to our valued customers.
Events; The restaurant of our hotel, fascinated by its historical texture and architecture; wedding, engagement or birthday, such as special celebrations and offers a great environment for invitations. With high quality service and decoration, you can make your day or night even more spectacular and epic. You will feel very special in this environment that can isolate you from the world. There are also historical interiors that can be used for seminars and meetings.