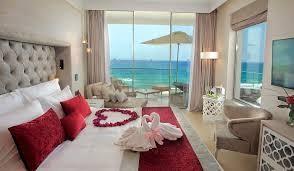 Honeymoon Holidays in Cyprus

Each term is a paradise for honeymoon holidays in North Cyprus, is one of the places that comes to mind when it comes to the Mediterranean. Northern Cyprus, which is the favorite of honeymoon couples with its unique beaches, unique sea, elegant hotels and offers a warm holiday with its almost never-ending sun for four seasons.
The exclusive hotels offering special services, almost every imaginable opportunity of the honeymoon couples to make the most important holiday of their life unforgettable.
You can enjoy the sea at the seaside hotels of Northern Cyprus, which opens to the blue waters of the Mediterranean Sea. You can spend a nice honeymoon with your spouse by throwing the hustle and bustle of starting a new life and returning to your home in peace and tranquility.
Peace, joy and romance will be lived together on your North Cyprus honeymoon holiday and nights of full of fun will be waiting for you. You will have the chance to spend one night in the hotels where famous artists take the stage, and enjoy the nights of Northern Cyprus in the elegant restaurants and clubs.
You will not only benefit from the sea and the sun, but you will also have the chance to see the surrounding historical and natural beauties. You can visit Kyrenia Castle and Harbor and taste Mediterranean flavors in the restaurants around the port. History lovers couples can visit the ancient city of Salamis, Lala Mustafa Pasha Mosque, Venetian Column, Othello Castle, St. Nicholas Cathedral, St. Francis Church, Kertikli Hamam, Famagusta Walls, St. Barnabas Monastery and Bellapais Monastery. For those who want to see natural wonders; Karpaz will impress you with its untouched texture, and if you go during the spawning period of Caretta Caretta Turtles, you will have the chance to watch this unique nature event.
It is the shortest and most advantageous way to use aircraft as a means of transport to Cyprus. You can come to Northern Cyprus by connecting flights from Turkey to Ercan Airport, or from Larnaca Airport by transfer. You will find the opportunity to make a beautiful honeymoon holiday at favorable prices with Booking2cyprus.
Moreover, you do not need a visa to enter Northern Cyprus. All you have to do is show your passport and fill in the simple form given to you for entry and exit stamps. We also remind you not to forget to carry this filled form during travel.
If you are looking for an unforgettable experience for your honeymoon, you are in the right place. Cyprus Hotels; you will experience the most beautiful holiday of your life by offering you a special honeymoon with quality service understanding where you can experience romance and comfort.
We wish happiness and great holidays to all newly married couples in advance.