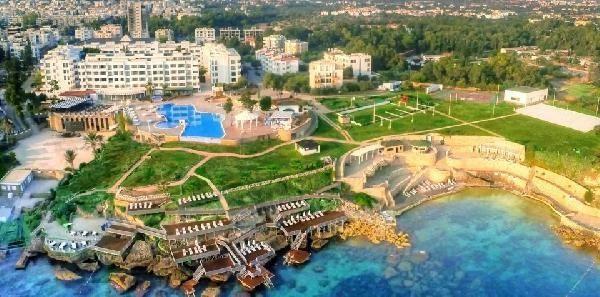 10 Best Luxury Hotels in Northern Cyprus
"I wish every season of the year was summer and every day of the year was a holiday… belki These lines, which are interpreters of all of us, may not be true, but it is not difficult to turn our limited holiday days into unforgettable memories in a dreamy facility and atmosphere!
The first issue that we need to decide for reaching our dream holiday is undoubtedly the region selection. It is clear that traveling is not as difficult as it used to be in the present day when there are many options for holiday in Turkey and abroad. The hotels' installment options, the very reasonable prices offered with early bookings and many more opportunities encourage us to go on vacation we longed for. The luxury hotels and entertainment sector of Northern Cyprus is one of the countries where you can have a holiday.
Booking2cyprus continues to make you smile with very advantageous campaign and price options in order to make your dream holiday in the most luxurious hotels of Northern Cyprus. Don't forget to follow us on our social media accounts in order not to miss the latest campaigns and advantageous prices!
Northern Cyprus is a great choice for listening to your head, having fun and lots of different holiday concepts! We have written in detail the 10 most luxurious hotels on the island for all young and old people who are planning a holiday in Northern Cyprus! Don't forget to visit Booking2cyprus before making your plan.
Here are the 10 most luxurious hotels in Cyprus for a dream holiday:
10) Merit Crystal Cove Hotel Casino
Merit Crystal Cove Hotel Casino, which is considered one of the most luxurious facilities of Kyrenia and serving in an ultra all inclusive concept, welcomes its valuable guests with its large room portfolio ranging from king rooms to VIP rooms.
Specifically stated hotel is a pet friendly facility; Jacuzzi, hammam, sauna, bar, shuttle service to the city, safety deposit box with features such as free stands out. 265 Standard, 62 Suites, 4 Junior Suites, 3 Vip Suites and 5 King Suites, all the rooms of the hotel designed with a line to provide luxury and comfort. There are also non-smoking, interconnected and disabled rooms.
If you are going to holiday in Northern Cyprus and looking for a hotel; We recommend adding to your list!
9) Kaya Artemis Resort Casino
Kaya Artemis Resort Casino, which is highly rated on Tripadvisor and many other sites, is one of the most luxurious and successful hotels in Cyprus that Booking2Cyprus also recommends. It is possible to find everything you are looking for in this facility which is formed by Kaya Artemis group on an area of ​​230.000 square meters.
Kaya Artemis is an admirable facility with its architecture which is the wife of the historical Temple of Artemis, 739 rooms enriched with luxury facilities, pools, spa, beauty center, congress center, meeting rooms and all other attractive features in its ultra all inclusive concept.
The hotel, which should be on the list of those looking for entertainment during the holiday, adds a different dimension to the nightlife in Artemis Casino. This magnificent casino; With its VIP lounge, live game tables, sparkling bar and private restaurant, it offers unlimited entertainment to its guests and serves its guests in an area of ​​3.600 m².
8) Noah's Ark Deluxe Hotel & Spa
One of the first hotels that come to mind when it comes to Northern Cyprus, Noah Kuzeys Ark Deluxe Hotel is located on the unique beach of Karpaz Peninsula. Built on 160,000 m2, this charming resort serves its distinguished guests with deluxe rooms with sea views and distinctly designed suites, as well as resort rooms all with sea views.
You will have fun and stay in shape with the activities going on all day long. In the evening you will enjoy concerts, animation and stage shows with high-tech stage and lighting systems.
The hotel is one of the best facilities in Northern Cyprus with its all-in-one concept and an ultra all inclusive concept. With its 4 tennis courts, football field, basketball court, outdoor and indoor pools, this charming hotel welcomes those who want to have a privileged holiday.
There is a private VIP area, a restaurant and a bar in the casino which is highly appreciated. Offering the highest level of quality to its guests, Noah Ark Casino Cyprus is among the most exclusive casinos in Europe and the Middle East. Before you plan your vacation, we strongly recommend you to explore the services and privileges of Noah's Ark Deluxe Hotel and Spa in detail.
7) Elexus Hotel Resort Casino
With its seafront location and charming sandy beach, Elexus Hotel Resort Casino is undoubtedly one of the most luxurious hotels in Northern Cyprus. Elexus, which can be considered as the most elegant hotel of the island with its interior and exterior architecture, is a facility established on an area of ​​277 thousand square meters and is waiting for you esteemed guests in Kyrenia. The hotel offers full board ultra plus concept.
The facility that satisfies its guests at the highest level with completely free services such as spa, indoor and outdoor pool and aquapark; it also has one of the highest quality casino centers in Northern Cyprus.
The hotel welcomes famous artists and offers unforgettable moments to its guests. There are a total of 24 slides in the aquapark area of ​​6000 m2 suitable for the use of children and adults and 14 children. If you are planning to go to Cyprus for a vacation, we recommend this great hotel which stands out with its architecture and superior service quality.
6) Cratos Premium Hotel Casino Port Spa
You might think that many facilities, named "Premium İsm, are news of premium features; but Cratos Premium Hotel is not one of them! This facility, which is accepted as one of the most luxurious hotels of all times with its service and architecture; Built on an area of ​​105,000 square meters and fascinating with its unique features!
At the Cratos Premium Hotel where you can enjoy the view from the rooms with its seafront location; Indoor pool, Turkish bath, kids club, massage, fitness center are waiting for you free of charge. Facility; You can easily use many additional services from jacuzzi to water sports.
The facility, which is one of the important addresses of the nightlife on the island, attracts attention with its international standards casino. The hotel offers unforgettable entertainment with its VIP & High Limit Lounge, Cratos Poker Club, table games and slot machines! Don't forget to add this magnificent hotel which is shown as one of the 10 most luxurious hotels in Cyprus and serves in full board plus concept to your list!
5) Limak Cyprus Deluxe Hotel
Limak Cyprus Deluxe Hotel, which is located in Bafra region of Northern Cyprus and serving in an ultra all inclusive concept, is considered as one of the most beautiful hotels of the island and is considered as one of the most peaceful places of Cyprus. Set in a huge 120,000 square meter beachfront facility, this wonderful resort offers a choice of family rooms, duplex rooms and standard rooms.
When you take a look at the services offered by the facility, there is an aquapark with 7 slides, a wonderful disco where you can enter free of charge and a pool bar; many services are available to guests free of charge.
You can get detailed information about Limak Cyprus Deluxe Hotel from Booking2cyprus, which is shown as one of the 10 most luxurious hotels in Northern Cyprus.
4) Les Ambassadeurs Hotel & Casino
Les Ambassadeurs Hotel & Casino in Kyrenia is one of the newest hotels on the island. It features a 4-storey main building, offering guests a beautiful view and coastline. You can realize your dream holiday by choosing one of the standard and suit room options at the hotel which serves full board plus concept!
With its seafront location, Les Ambassadeurs Hotel & Casino offers its guests free of charge beach tools such as umbrellas and sun loungers on the pier.
Offering all kinds of entertainment to its guests with its casino, the hotel also prepares a luxurious environment to relieve the tiredness of the day with its spa service!
3) Concorde Luxury Resort & Casino & Convention & SPA
Concorde Luxury Resort is one of the most popular hotels on the island. This magnificent hotel, built on a magnificent sea-side area of ​​125,000 square meters, has a choice of Pool Villa, Garden Villa, Suite and rooms with partial sea views.
The hotel has different and unique features in every room type, and many activities from table tennis to water gymnastics are performed free of charge; At the same time pool bar, beach bar, disco, outdoor pool, hammam options are also offered.
The hotel, which attracts attention with its casino, is one of the most frequented spots of those who love entertainment! Concorde Casino has 30 live game tables, 5 VIP game rooms, 220 machines filled with rich and different Jackpot contents for the latest games with the latest technology in a wide area of ​​5500m2, 30 different live game tables, open buffet and a'la carte restaurant with its guests.
If you want to have fun in Cyprus and listen to your mind, we recommend you to visit Concorde Luxury Resort and experience the importance given to the guests.
2) Merit Royal Hotel & Casino
Merit Royal Hotel & Casino is located in Kyrenia, which is probably the most luxurious hotel of Northern Cyprus and serves all inclusive concept! Merit Royal welcomes you with its magnificent view and is renowned for its importance to its guests. It is one of the most luxurious hotels in Cyprus and can spend a few days according to your taste with Royal and Premium room options; You can take all the tiredness of the year off your shoulders.
The hotel consists of 90 standard, 14 junior suites, 6 suites and 8 king suites, and a total of 118 rooms. Merit Royal Spa, which has an area of ​​approximately 3,500 m2, offers far east and classical massages to its guests.
Turkish baths, saunas, indoor swimming pool, massage and skin care rooms, fitness center and hairdresser in the center where everything is thought to the finest detail to relax!
1) Kaya Palazzo Resort & Casino
Among the 10 most luxurious hotels in Cyprus, another hotel, Kaya Palazzo Resort & Casino, is located on a 65.000 sqm beachfront location in Kyrenia. With a total of 261 rooms and a full board plus concept, the hotel can be an ideal place to relax with a low population compared to other facilities.
The 3.500 m2 spa center, sea view rooms, mini club offering unlimited entertainment for children, private rooms with pool access, the indispensable address of the magnificent congresses, the Palazzo Convention Center, a la carte restaurants offering the most exclusive tastes of the world cuisine and many personalized services.
Booking2Cyprus strongly recommends that you add Kaya Palazzo Resort & Casino to your list!
After receiving detailed information about the 10 most luxurious hotels in Cyprus, you can make your hotel reservation and airport transfer without any problem.