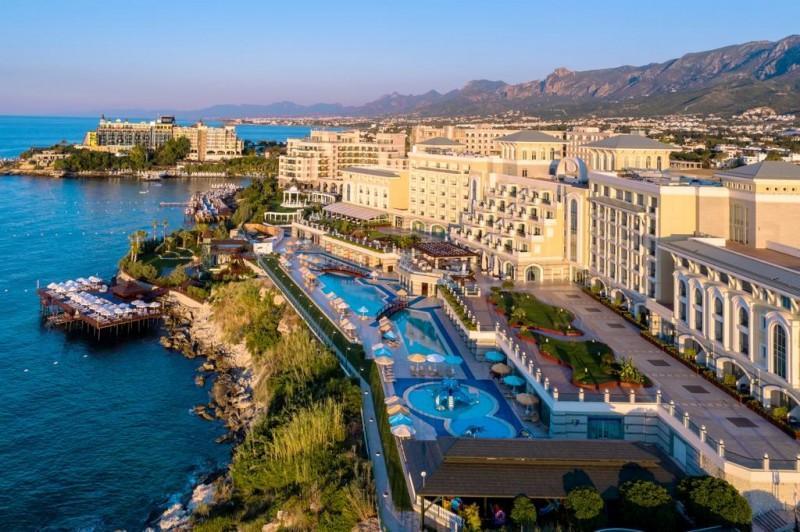 Kyrenia, where Cyprus's most unique beaches and other natural beauties are located, is an ideal spot for a wonderful holiday. Among the Kyrenia Hotels serving in different concepts in the region, those that offer you five star quality are always a better choice. In addition to enjoying the privilege of a five star accommodation in these hotels, you can have a more enjoyable holiday by discovering the unique beauties of Kyrenia.

Located in Zephyrus Bay, a bay admired by everyone in Northern Cyprus, the Hotel offers a special holiday opportunity by combining its privileged location with its understanding of superior quality. Thanks to its 10 km distance from Kyrenia city cente, you can easily reach the center for shopping and sightseeing. The Hotel offers you every shades of blue and green at the same time. The rooms have all the details that will make you comfortable during your stay. All rooms in the premium block have a balcony that allows you to enjoy the view. In Kyrenia Hotels, which is under the five star category and have an All Inclusive concept, you have the chance to colour your every moment with its Spa and Casino services. The most special massages that are good for your body health are performed by the expert staff working in the Spa Center. For your weddings, meetings and special events, the Hotel has suitable halls with a capacity to serve many people at the same time.
Located close to the port and the Byzantine Castle, which are historically one of the most valuable spots of Cyprus, the Hotel is in the heart of Kyrenia. Elegantly designed restaurants, where the most beautiful dishes are served, introduce you to unforgettable flavours. The rooms are very luxuriously furnished. Club and Suite rooms give you comfort in every sense. The Arkın Colony Hotel Residence Suites have a Jacuzzi. You can do the necessary exercises to keep your body in shape in the Fitness Center under the supervision of the professional trainers. With the most relaxing massages of the Far East, you can relieve your pain and restore calmness to your soul.
Rocks Hotel takes its place in Kyrenia for a holiday that will make you feel special. Being close to historical spots such as Kyrenia Yacht Harbor and Kyrenia Castle is an opportunity to see historical places closely. You can enjoy the unique tastes from the world kitchen that are prepared for you by Master Chefs with great care. Activities carried out to make every moment special, take you away from all your stress and make you feel relaxed. You can enjoy swimming in its magnificent beach and pools.
Savoy Hotel Kyrenia is a Hotel furnished with Ottoman architecture for a stay worthy of sultans. The restaurants of the Hotel offer you Ottoman and Turkish cuisine, as well as world cuisine. Being close to the historical places of Kyrenia makes your holiday even more special. You can relax with the most special massages and treatments that will relax your body in the Spa and Health Center.
With its location close to many historical places and comfortable rooms, Grand Pasha Hotel, which deserves five stars, offers you a unique holiday opportunity in Kyrenia. The rooms with luxurious furniture, Casino service and other privileges offer an ideal holiday opportunity. With its activities and sports facilities for children; Grand Pasha Hotel offers you different alternatives to spend your time with pleasure.