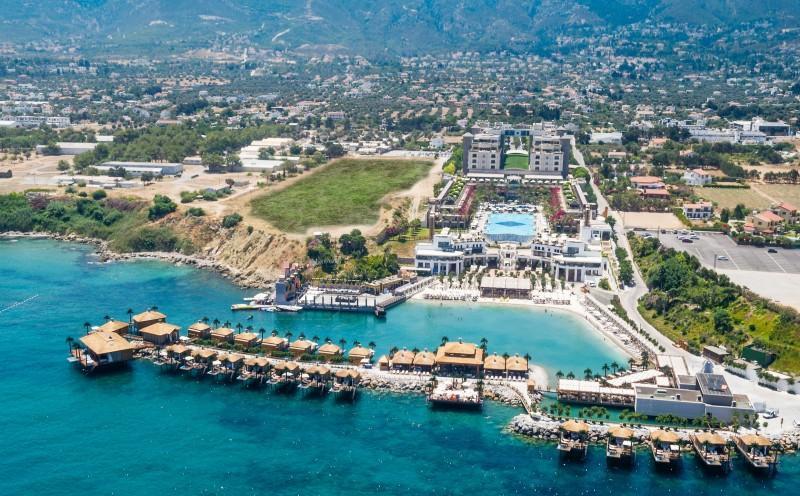 Opened in 2010,

Cratos Premium Hotel Cyprus

is located in Kyrenia, North Cyprus.

Cratos Premium Hotel

is located on 105000 m2 area and serves our guests with full board plus concept. Cratos Premium Hotel is located near the sea. The hotel has its own pier and beach.
Cratos Premium Hotel and Game Club is 35 km from Ercan Airport and 5 km from Kyrenia.
Cratos Premium Hotel Kyrenia

has 410 rooms. There are 246 standard rooms, 110 superior rooms, 32 suites, 8 junior suites, 6 presidential suites and 4 king suites.
Cratos Premium Hotel Kyrenia North Cyprus

offers 11 A'la carte restaurant, 3 outdoor restaurants, 3 indoor restaurants and 8 bars. With 2 outdoor swimming pools, you can have a pleasant holiday.
All rooms at Cratos Premium Hotel include; TV, Minibar, Wifi, room service, toiletries, tea and coffee.
At the Hotel outdoor pool (1350 m2, 140 cm deep), children's pool (180 m2, 40 cm deep), indoor swimming pool (114 m2, 140 cm deep).
Cratos Premium offers children and baby care services for children aged 0-12 years. Cratoys, organized by professional carers and pedagogues in the profession, organized educational, developer and sports activities according to the age of children, guests who wish to attend the game club or leisure activities can entrust their children. (00-03 age child paid / 04-12 years old children benefit free of charge).
Cratos Premium Entertainment program:
In Port Cratos, during summer time an open-air disco at Cage Club and during the winter it is Mad Club.
Cratos Premium Spa/Coco Spa:
The Cratos Premium Spa offers a variety of Far Eastern and classical massages by experienced massage therapists. 2 Private Spa with sauna, hammam, steam bath, massage room with telephone-television and jacuzzi are available for guests who want to feel special. There are also 4 private massage rooms on COCO SPA on CocoBongo Island.
Cratos Premium Hotel Paid Services:
Room service, dry cleaning, babysitter, doctor, massage, baby carriage, water sports.
Cratos Premium Hotel Free Services:
WiFi, lounge chairs, beach towels, umbrellas, sauna, steam room, fitness room, baby chair.