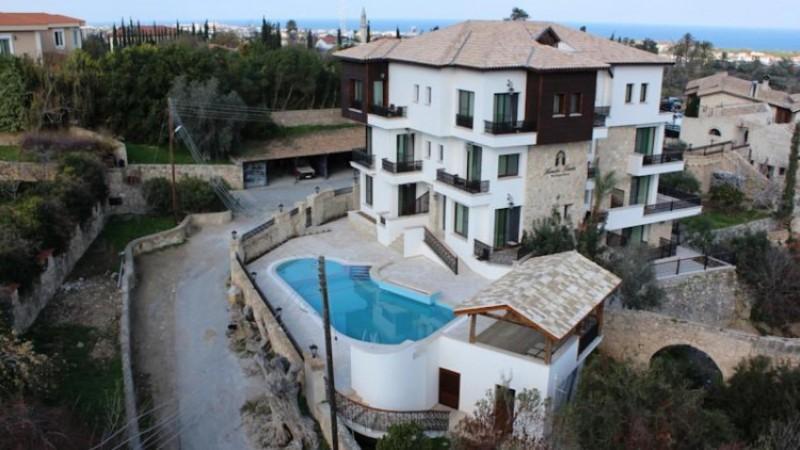 Kyrenia is one of the most important port cities of Northern Cyprus. In addition, the population of Kyrenia, which is the most popular holiday destination of the island, which is 62,000, almost doubles during the summer months. There are Beşparmak Mountains in the south of Kyrenia and a magnificent Mediterranean view in the north. Kyrenia has been inhabited since Roman times. The great trade colonies established by the Phoenicians and many historical sites of those times are located in the city of Kyrenia today.
You can decide the hotel that appeals to you by reading this article, which we have researched for you some affordable hotels in Kyrenia hotels.
Karia Plus City Apartments
Located 1 km from Kyrenia city centre, Karia Plus City Apartments offers sea view rooms and is very close to historical sites. It offers free wi-fi service and free parking lot. All apartments have a terrace and a microwave and refrigerator, a flat-screen satellite TV, ironing facilities, a work desk to work comfortably and a seating area with a sofa.
Kemerli Konak Boutique Hotel
The hotel is a 6-minute drive from the city center. The property, which has an outdoor pool and a la carte restaurant, has free wi-fi service. Some of the rooms have mountain views and some have pool views. All rooms have flat-screen satellite TV, air conditioning and minibar, electric kettle where you can make a nice coffee.
Deniz Konak Boutique Hotel
The hotel building is located in the city center and was formed by the renovation of the stone building. The hotel has 3 groups of rooms: family room, deluxe room, economy room. It is 300 meters from the Icon Museum and Girne Castle. As it is located in the city center, you can easily meet your needs and you can visit historical places.
Paradise Holiday Bungalows
Located near Diana Beach, the hotel has a restaurant and two beach bars. Bungalow has an outdoor pool which can be used depending on the season, garden, free full breakfast, free wireless internet and free parking lot. You can prepare delicious foods according to your taste in the small kitchen with refrigerator. Round-trip airport transfer service is available at the property.
If you are going on a trip to Kyrenia, you can choose Sun Rays Hotel if you are looking for an affordable but beautiful place. In addition to being a suitable environment for families, the property has many practical facilities for you to have a more enjoyable holiday.
The hotel is close to Girne's attractions. It is 2.5 km from Baldoken Ottoman Graveyard and 2.5 km from St. Andrew's Church. Perfectly located for tourists, the hotel rooms have minibars, air conditioning and refrigerators. You can connect to the internet with free wifi. In addition, free breakfast is available during the stay.
You can benefit from the hotel's bar, lounge, pool bar and restaurant services. It also offers free breakfast. Thanks to its multilingual staff, tourists do not have difficulty communicating. Parking lot is extra charged and you can benefit from the dry cleaning and laundry services available at the hotel.
Located in the center of Kyrenia, Anadol Hotel has all the features of a city hotel. Each room has a hair dryer, air conditioning, internet connection, telephone, mini bar, TV and safe for your valuables. Each room has a balcony.
Located in the seaside village of Lapta, Manolya Hotel has air-conditioned rooms with sea and mountain views, overlooking the clear sea of the Mediterranean. The hotel has a sea-facing terrace, large swimming pool and restaurant. Enjoy a great holiday in this resort where you can find peace and get away from traffic and the stress of the city. All rooms of the facility have satellite TV, mini bar, water heater, safe, wi-fi internet connection, air conditioning, wooden furniture.