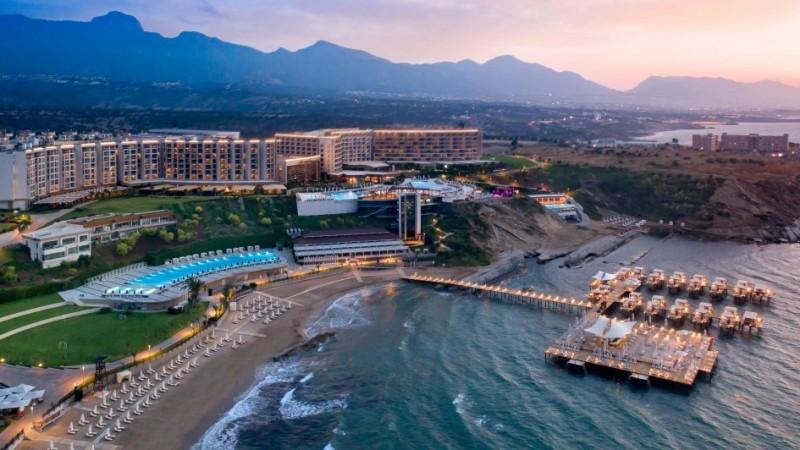 We have listed the best luxury and most popular hotel options in Northern Cyprus, one of the most preferred holiday destinations. By quickly browsing our article Best Northern Cyprus Hotels you can choose the most suitable hotel for you and easily make your holiday plans.
Concorde Luxury Resort & Convention & Spa
You can also book your place at this hotel, which is on top among the Luxury North Cyprus Hotels, located in the popular resort place Northern Cyprus and preferred by its guests frequently. Beautiful privileges await you at the hotel, which operates with a service policy for the comfort and satisfaction of its visitors at all times. You can enjoy the sun and the sea to the fullest in the property, which has a very clean and beautiful bay of its own. You can enjoy yourself with sun loungers, parasols and special pavilions on the beach. Concorde Luxury Resort & Convention & Spa rooms are designed to meet your needs. You can have a very pleasant and enjoyable holiday in the accommodation areas where a stylish and modern decoration is observed. You can also try the hotel's restaurants to try fine examples of international cuisine. For guests traveling with their children, there are areas where they can do beautiful activities in this luxurious hotel. Hotel guests who love to have fun can have good moments at the fully equipped. When you want to relax, you can join massage and care sessions at the resort's spa center.

Acapulco Resort Convention SPA Hotel
Enjoy a beautiful holiday experience at this luxury hotel in Kyrenia, Cyprus with very special privileges. You can enjoy the calm sea and sun on the clean and relaxing beach of the resort. You can also try the interesting pools in Acapulco Resort Convention SPA Hotel. The hotel offers different, comfortable room and villa alternatives to satisfy its guests. You can sip different drinks while enjoying your meals in the bars and restaurants of the facility. The hotel, which has a large area of approximately 100 thousand m2, awaits you in the section to have fun moments.
Elexus Hotel Resort, one of the most popular hotels in Cyprus and with a fairly large area of about 277,000 M2, is the right address for an unforgettable holiday experience. Offering full board plus style service to its guests, the property offers unique and delicious food alternatives. You can experience a pleasant stay in 882 hotel rooms furnished with comfortable and luxurious furniture. When you want to regenerate and get refreshed skin, Zoya Spa, which offers services in an area of 4,500 M2, comes to your aid. You can consult expert staff in the field to try the most suitable massage and skin care applications for you.
Limak Cyprus Deluxe Hotel
Located in Cyprus, Limak Cyprus Deluxe Hotel is a highly appreciated hotel with magnificent and luxurious amenities. Offering an ultra all-inclusive service to its visitors, it offers delicious and varied dining options. You can also book your place at the hotel, which is one of the first preferences of those who want to experience a privileged holiday. You can experience a comfortable stay at the property, which has comfortable and stylish rooms in 3 different styles. ou can try different massage and care treatments in the spa center that will be good for both your soul and body by making a reservation. You can also enjoy pleasant moments in the of the hotel.
Kaya Artemis Resort is a Northern Cyprus hotel designed based on the historical temple of Artemis. The property, which has a very interesting architecture, offers many privileges to its esteemed guests. The hotel has a very clean and well-maintained Beach. henever you want to enjoy the sea to the full, you can enjoy yourself at the azure waters of Northern Cyprus without thinking. Guests who want to spend time in the pool can have the opportunity to spend fun moments by stopping by the hotel's Aqua Park. The stylish rooms at the hotel are designed with modern and comfortable furniture. When you want to eat pleasant meals, you can try the menus prepared with great care and meticulousness without hesitation. At A'la carte restaurants, you can have a romantic dinner accompanied by a view; with a reservation requirement. Diana Spa & Wellness is open from 09.00 to 18.00 in the morning and Hera Spa is open from 09.00 to 18.00. The most suitable massage and care applications for you are applied gracefully by expert staff.
Merit Crystal Cove Hotel, located in Alsancak, Northern Cyprus, has a total of 349 rooms. You can step into a pleasant holiday by choosing the most suitable room among the accommodation areas designed for different needs. The hotel offers guests delicious meals in open buffet style in the breakfast, lunch and dinner. When you want to cool off, you can take advantage of the quality beverage service in the lobby bar between the specified hours. The hotel offers 3 types of A'la Carte restaurants with different concepts. By making a reservation, you can try specially prepared dishes and spend pleasant minutes. For a fun holiday experience, guests can also try on the property.
Kaya Palazzo Resort Hotel is located in Kyrenia, we can say that it is the right address for a holiday filled with privileges. At any time you want to enjoy the sun and sea, you can take advantage of the hotel's own clean beach and pool. Hotel guests who care about privacy can rent private pavilions located on the pier. You can also book your place in the highly appreciated facility with its location on the seafront. If you want to try a variety of delicious drinks and meals, you can meet your needs by visiting restaurants and bars of the hotel. When you want to pamper yourself, you can visit the spa center serving at the hotel and have the most suitable massage application for you easily by the specialist therapists. The game centre in this facility, where entertainment never ends, attracts a great deal of attention from the guests. Thanks to the music performances that last all night, you can have nice and enjoyable hours.