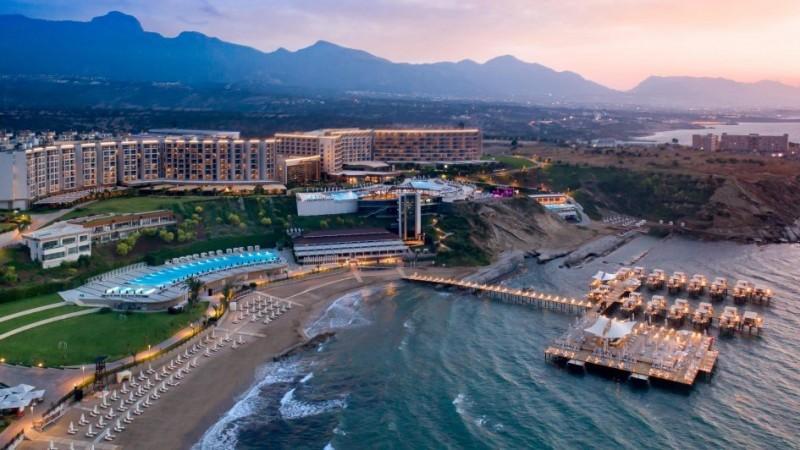 Designed to combine the natural beauty of Cyprus with an exclusive and luxurious accommodation service, Elexus Hotel Resort Casino has 14 different types of rooms, which most of them have sea view. Kyrenia Elexus Resort Hotel, established on an area of 277 thousand square meters, serves you, your guests, with 822 rooms in total. The property has made significant contributions to the tourism of Northern Cyprus by using the full board plus concept for the first time in Cyprus Island. Within the concept, guests can spend the whole day trying new tastes as they wish, while many local and foreign alcoholic and non - alcoholic drinks are free of charge. At Leaf Restaurant and Reflection Restaurant, you can take advantage of the food served all day in open buffet form which includes wide range of options. Moreover, you can taste most of the foreign branded alcoholic beverages served in the facility free of charge.

You can have successful, unique and smooth organizations at the Elexus Congress Center, which is designed by considering every detail for your corporate and social requests specific to business life. You can get services that make you feel privileged in congresses, conferences, company meetings, business lunches, birthdays, school parties, weddings and all your organizations. In addition to solutions that make business life easier, you will experience the privileged world of entertainment and accommodation in Elexus. The facility will organize important moments as you wish and offer you all the necessary facilities with its high tech infrastructure, modular structure that can serve groups and organizations of all sizes, expert staff in the field and the possibility to host many different concepts at the same time.
Feel the summer in Elexus with the lush green nature of the Mediterranean, charming bays and beautiful pools. Enjoy the deep blue sea with its 1.3 km long coast and 2 different beaches with fine sand. Experience peaceful moments in touch with nature on the pier of 3,200 square meters. 2 different bars located on the beaches by the nature. Spice up the whole day with snacks, drinks and pleasant music, and enjoy the services offered to you. At Aqua Bar and Mia Beach, taste delicious foods and sip refreshing drinks all day long while maintaining your beach pleasure. Bring the fun to your every moment by participating in concept parties and shows in Mia Beach's VIP lounge. In times other than the party concept, experience peaceful moments on the natural wonder beach. Besides the beach concept; enjoy the pools designed for different preferences so that you can feel the freshness as you wish. Feel the happiness of summer in the Main Pool, Spring Pool, Mia Beach Pool, Shock Pool or Semi - Olympic Indoor Pool. In addition, there are 24 fun water slides in the aqua park area which is 6000 square meters in total. Elexus Hotel aqua park area, which has a separated aqua park with 6 slides specially designed for your children, has many aqua parks such as 3 large jet water slides, 1 gondola water slide, 2 long rotating water slides, 1 witch cauldron water slide. All of them will make you enjoy your water fun at its peaks. In addition, the hotel pools have international standards and offer an entertainment in a safe platform with its trained and qualified lifeguards.
With various activities and foods that Elexus offers specially for young guests, you and your kids can both enjoy the comfort. Let them experience the joy of holiday freely. Little and young guests who will not understand how time passes with the expert trainers accompanying them all day at the Alexis Mini Club, which only serves for children, can revive their own imaginations in Liliput Houses or spend productive time by making new discoveries in the mini laboratory. With the educational and entertaining contents organized by the Alexis Mini Club throughout the year, let them enter a fairy tale world, and take time for yourself with peace of mind. While sipping a drink at the Lobby Bar with your spouse, your children can enjoy movies in the Alexis mini cinema hall, where beautiful films are broadcasted for them. While you are having a Bali massage in Zoya SPA & Wellness Center; If the little and young guests, who might be bored of watching movies, can freely use the Teenage Club which is designed only for them by offering a game center including bowling, aqua park, theatre and dance shows. So you can live every moment of your holiday to the fullest.
Renew both your soul and body with Zoya Spa & Wellness's relaxing atmosphere and special services. Along with the services it provides on an area of 4500 square meters and its ultra - luxurious architecture, Zoya SPA & Wellness offers massage, skin and beauty treatments, mini detox programs and personalized cures and awareness - raising trainings created by guest requests or recommendations of expert therapists. Meet with the experience of the professional health and care team in a quiet environment blended with the Far East breeze. Enjoy the comfort in massage rooms with sea view or VIP rooms with private Jacuzzi, terrace and Turkish bath. Whether you enjoy the unique view of nature in the Fitness Center, or relax in the Turkish bath, sauna, therapy or steam room. The decision is yours. Besides all these privileges; feel the peace with Zoya Spa & Wellness's traditional and modern massage therapies, skin and beauty treatments, detox packages and personalized programs.
With the Diamond Honeymoon Package of Elexus, experience an unforgettable honeymoon holiday with its unique opportunities. Enjoy the most special privileges, sweet surprises and romance that will crown your love. With Elexus, which will add unforgettable moments to your happiness and love, experience luxury, comfort, peace, entertainment, romance, nature, flavor and more. In Elexus Diamond Honeymoon Package, you will have unforgettable days with many options such as limousine transfer, special room decorations, chocolate - cookie plate and similar snacks, fruit plate and premium champagne, foot massage special for couples, chef service for dinner, guaranteed late checkout privilege.
Among the free facilities of the Elexus Resort Hotel, there are wireless internet, car parking area, reception service around the clock, Fitness Center, indoor and outdoor pools, sauna and Turkish baths, steam rooms, internet cafe, currency exchange, kids club, beach volleyball, aerobic activities, tennis, Aqua Park, cinema, Pilates and animation activities. The paid facilities of the hotel include reception safe, dry cleaning, special massage treatments, airport transfer, laundry, Jacuzzi, billiards, beauty center services, private babysitters, extra water sports, special Spa services, car rental and doctor services.
Restaurants:
Reflection Restaurant, Leaf Restaurant, Bistro 24 A la Carte Restaurant, Meyan Grill A la Carte Restaurant, Kaluga A la Carte Restaurant, Myoga A la Carte Restaurant, Cannoli Pattiserie and Snack Restaurant.
Bars:
Lobby Bar, Pool Bar, Mia Beach Bar, The Code Bar, Lounge Bar, Deep Bar, Vitamin Bar, Snack Bar and Sisha Cafe Bar.
Congress Center:
Elexus Resort Hotel has 2400 square meter indoor area. The Congress Center can host 3300 people at the same time in cocktail organizations. The maximum capacity in dining form is 2800 people. So it is suitable for multi - purpose congresses with its foyer and meeting areas without columns. Thanks to this feature meeting hall can be divided into 3 upon reguest. There are also Hagia Sophia meeting room, Alexandria meeting hall, Petra meeting room, Halikarnas meeting room, Keops meeting hall, Babylon meeting hall, Zeus meeting hall and Taj Mahal meeting hall available for you to have smooth events.
Pools:
Main Pool, Spring Pool, Mia Beach Pool, Shock Pool and Semi-Olympic Indoor Pool.
Aqua Park:
There are 24 fun water slides in the aqua park area of 6000 square meters in total.
The Code Disco:
The nightclub, where Cihan Çobanoğlu performs every Wednesday, Friday and Saturday, is open between 23:00 and 02:00 in the main building.
Location:
Located in Catalkoy region, Elexus Hotel Resort is only 12 km away from Kyrenia and 32 km from Ercan Airport.