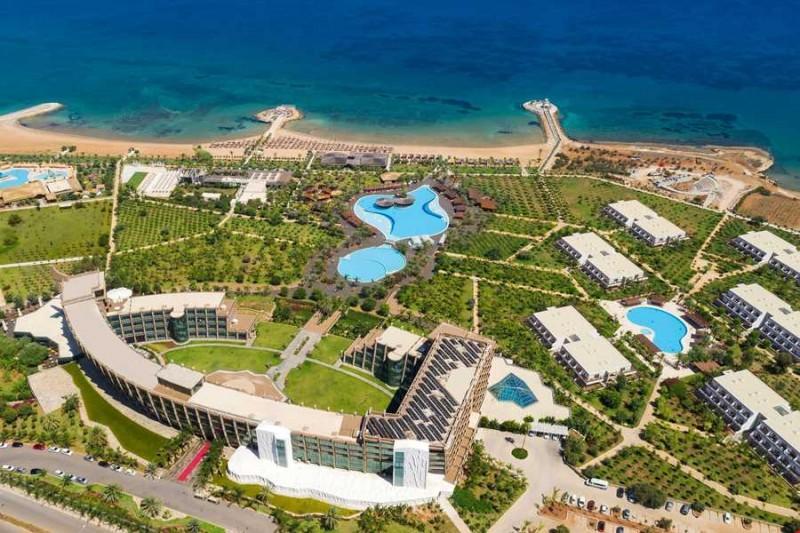 For those looking for Bafra hotels in Northern Cyprus, we have compiled the best options in this article. Bafra region is located in Iskele district of the Turkish Republic of Northern Cyprus. It is home to many hotels due to its wide beach and natural beauty. Many investments are planned for tourism here. Therefore, many hotels are expected to open in the region in the coming years. You can use our article to plan your holiday by getting information about the hotels in the region.

Noah's Ark Deluxe Hotel & Spa
The exterior architecture of the hotel, which looks like a ship, is a good option for accommodation with its interior architecture and other facilities. You can enjoy an unforgettable holiday experience at the hotel, which offers you modern rooms, fun activities and an understanding that cherishes its guests. Noah's Ark also offers you various surprises for your honeymoon.
Room Options
The hotel has different room options. You can choose from deluxe rooms, resort rooms and suite rooms in the main building. The rooms have a double bed and a single bed. Some rooms have two single beds. Rooms have partial sea views and garden views. You can use the tea and coffee set-up to prepare a beverage to accompany your chats at room. For those who want a holiday intertwined with nature, Holiday Village rooms are located in a place intertwined with the sea. You can enjoy the panoramic views at the suite rooms.
Activities
Noah's Ark opens the door to an unlimited holiday with fun activities that you will not be bored with for a moment. You can have pleasant moments as a family in activities that are specially thought out for your children and you. Face painting, music, dance activities are organized for children and accompanied by instructors. The slides in the aqua park bring the entertainment to the top for you and for children. With spa and fitness facilities, you can relax your body while maintaining your form.
This hotel, which appeals to the eye with its architecture inspired by the temple of Artemis, has a total of 739 rooms. It may be very difficult to choose between different room alternatives. You can experience comfort intertwined with nature in the holiday village rooms. The resort has a choice of standard and duplex rooms. In addition, Superior and suite rooms at Kaya Artemis Hotel are also among those you can choose with their unique designs. At the resort's spa and beauty center, you can provide your body the care it deserves. You can also choose this hotel to combine your organizations such as meetings, congresses with entertainment.
Limak Cyprus Deluxe Hotel
Another hotel among the best hotels in Bafra is Limak Cyprus Deluxe Hotel.
You can relax in the comfortable beds of standard, suite and family rooms. The hotel offers you a wide range of restaurants and bars.
Limra Restaurant serves you from morning to evening, even at night. You can taste outstanding examples of world cuisines here. You can come to this restaurant to have a hot soup when you get hungry at night. Limak Hotel provides service for you to meet a different taste every day with its A'la carte, Grill and Chinese restaurant options.
Concorde Luxury Resort & Convention & Spa
Concorde Hotel opens the doors of both fun and comfortable accommodation. Located at the seafront, the hotel offers you different room concepts. Suite and deluxe rooms have options with different view alternatives. You can enjoy a full hotel pleasure with sauna, thai massage and body care rooms, as well as fun activities for children.