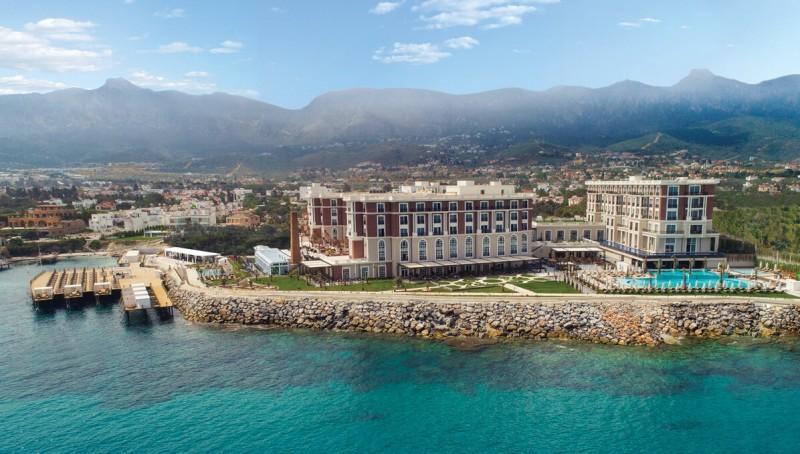 For those who want to have a holiday in Cyprus, Kyrenia is the first among our suggestions. Kyrenia, known as Kerinya in Modern Greek, is a port city that can be considered the tourist capital of Cyprus. In the southern parts of this city, there is the view of the Kyrenia mountains intertwined with nature, and in the North, the unique view of the Mediterranean welcomes you. In the middle of the city, there is Kyrenia Castle next to the ancient port, which is still used from ancient times to the present day. This, in turn, provides a nostalgic and historical opportunity for Kyrenia holidaymakers. In order for you to enjoy this unique holiday city, we list below a few of the hotels we can suggest you on behalf of your entertainment, relaxation and comfort.
Acapulco Resort Convention Spa
Located on the seafront, this hotel offers a one-kilometer-long beach, where you can sunbathe. In the hotel's largest pool, which is called as the infinity pool, your child can enjoy having fun in its aquapark area. While it is a little bit distressing for animal lovers, the hotel management, which considers guests who may have an allergic reaction, does not accept any pets from outside.
In the Ocean SPA & Wellnes area, which is established on an area of 4700 square meters of the property, one Turkish bath for general use, sauna, steam room, one Turkish bath special for ladies use, one Jacuzzi with sea salt, twenty-three therapy rooms (for massage, for skin care, etc.) offers services that provide comfort.
Free facilities include aquapark, fitness center, internet cafe, wireless internet, tennis court and safety deposit box in the rooms.
For comfort enthusiasts, Acapulco Resort Convention Spa Hotel is located in the Çatalköy district of Kyrenia. It is located 8 kilometers from the center of Kyrenia and 26 kilometers from Ercan airport.
This hotel, which has fourteen different room types, is built on an area of 277 thousand square meters to try enjoy making money and have fun. The delicious buffet in the main restaurant of the property offers a wide range of foods 24 hours a day. In addition, foreign branded alcoholic beverages choosed by the facility are also served.
Elexus hotel has a private beach measuring 650 metres long.It also has a 3250-square-foot pier with twenty-five pavillions and one bar. The hotel has a total of five pools, two large and three small. It has an Aquapark with 6 slides for your children.
As its name suggests, this hotel is one of the hotels where you can spend fun time among the Kyrenia hotels. Elexus Hotel Resort Hotel is twelve kilometers from Kyrenia and thirty-two kilometers from the airport.
Finding a suitable hotel for families in Kyrenia is not as difficult as it seems. We will provide information about Merit Royal Hotel, a great option for travellers like you. Merit Royal Hotel rooms offer a very comfortable and practical experience with refrigerator, air conditioning and minibar facilities. Free and fast wireless internet is available all throughout the hotel.
Famous for its Adult Gaming Area and Fortune games, it is easy to prepare an entertainment plan for the evening while serving a free buffet breakfast.
If you want to put aside the fun and devote time to yourself in nature, you should definitely go to the park called Green Heights, which is within a walking distance.
In addition, this hotel, which is a must visit place for entertainment seekers, also offers great features for honeymooners. If you're newlyweds, take a look at here first instead of the Maldives.
This hotel is located in the Alsancak district of Kyrenia, very close to the center, 33 kilometers from the airport.
This hotel, to be a second home for you in Kyrenia, offers many different facilities to make your stay more enjoyable. Guests staying at the Grand Pasha Hotel Casino & Spa can visit Kyrenia's most famous attractions, the Baldoken Ottoman Cemetery and the Agha Cafar Pasha Mosque.
It has 128 rooms, free parking, free wifi, Turkish bath, spa centre, fitness Centre. Hotel serving only the breakfast and dinner free of charge, will benefit you. You can spend your mid-day hours at Chinese House, a famous restaurant in Kyrenia, to gather your energy. More suitable for middle-incomed families, this hotel is 2 kilometres from Kyrenia Centre and 44 kilometres from Ercan airport.
If you don't like hotels with Game centers, this hotel is for you. Away from the chaos of the city, accommodation in the center of nature is at Korineum Golf & Beach Resort. The hotel offers its guests a comfortable holiday experience accompanied by the charming beauty of the Mediterranean Sea. Among the free facilities, it has many features such as shuttle service, tennis court, private beach area, library, wireless internet that can be accessed from all over the hotel. There is one pool. For people with physical disabilities, there is a wheelchair and a disabled path where you can access every area.
Korineum Residence Hotel, which is an expert in Kyrenia's golf field, may find it difficult to find available rooms, especially in spring and summer. Booking2cyprus address makes it easy for you to make early reservations.
Overlooking the Beşparmak Mountains, this luxury golf resort is 1 km from the nearest beach on the Mediterranean coast and 20 km from Kyrenia ferry pier.It is also a 30-minute walk from Alagadi Turtle Beach, the most beautiful beach in Cyprus. The hotel is 40 kilometers from the airport and has a free transfer.
Kaya Palazzo Resort Hotel, located on the seafront in Kyrenia, offers its guests the opportunity to experience summer entertainment with its pier and beach. The comprehensive SPA center at the property has an indoor pool, fitness center, pilates, 2 saunas, Turkish bath, Igloo rooms, relaxation area, skin and body care services, steam rooms and massage services. The property also has a pool only for adult use.
Featuring a Game Center, the property has a nightclub where spectacular parties and live music performances take place. In addition, guests can have a pleasant time at the game room.
For honeymoon guests, The Suite Room Set-up offers features such as free meals, champagne, chocolate and flowers at one of the A'e Carte restaurants. In addition, the hotel welcomes a bed and breakfast with special champagne on the first day.
Cratos Premium Hotel Cyprus, built in 2010, is located in the Çatalköy District of Kyrenia. Founded on an area of 10.500 square meters, the property serves its guests with the concept of full board plus. Cratos Premium Hotel is located on the seafront.

The hotel has its own pier. The property has its own private sand beach. It offers 11 a la Carte restaurants, three open-air restaurants, three on-site restaurants and special services for guests.
You can have a pleasant holiday with 2 outdoor swimming pools. For those who prefer sports and entertainment on vacation, there are sea biking, jetski, canoeing, catamaran, surfing and sailing activities. During your time as a guest, you can spend your time by taking training in activities such as parachuting, diving, surfing.
The hotel is 32 kilometres from Ercan airport and 5 kilometres from the centre of Kyrenia.
Lord's Palace, located on an area of 25 thousand square meters, has a private beach and Pier. Sun beds and umbrellas are free at the beach. A fruit plate and cocktails are free for honeymooners at the Sky Bar with stunning views. It also creates unforgettable moments with couples VIP Set-up and special extras.
The hotel has 3 a la Carte restaurants for an additional fee. The hotel's open buffet breakfast, open buffet lunch and open buffet dinner are free of charge. It is served in the main restaurant and is free of charge for alcoholic beverages.
It is 37 kilometers away from Ercan airport and 1 kilometer away from the city center.
For all kinds of holiday requests and hotel reservation you can quickly plan your holiday at https://www.booking2cyprus.com/.