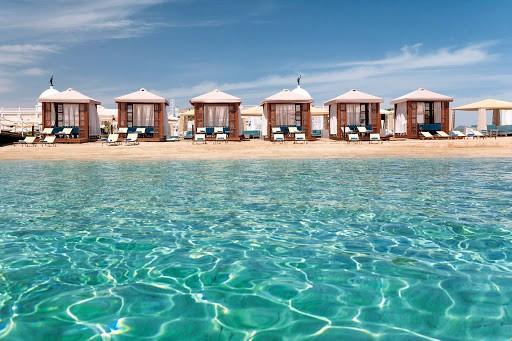 5 Star Bafra Hotels;
Bafra also known as Vokolida is a village district in the southern region of the Turkish Republic of Northern Cyprus. Bafra, with its nine-kilometer coast, is less numerous in terms of 5-star hotels than other northern Cyprus hotel regions. There are four five-star hotels in the Bafra tourism region: Kaya Artemis Hotel, Noah's Ark, Concorde and Limak. In this article, we will tell you all the details of 5 Star Bafra hotels.
Built on an area of 165 thousand square meters, Kaya Artemis Resort Hotel serves its guests with an ultra all-inclusive concept. Located on the seafront, you can enjoy Mediterranean views on the 250-meter-long coastline. You can also sunbathe at the property's own pier.
Bafra Kaya Artemis hotel has 3 open restaurants and you can fill your plates from the open buffet or have a quality dinner with your partner at a la Carte restaurant.
You will have fun times with 2 outdoor, 1 Olympic and 2 indoor swimming pools. You can relax and feel refreshed by taking advantage of the massage services at the on-site spa. In addition, you can use doctor, photographer, skin care, massage rooms, beauty salon, hairdresser, market, car rental services located in Kaya Artemis Hotel according to your needs.
For Northern Cyprus regional cuisine, you should definitely have a dinner at the Kiyi restaurant, 13 kilometers from Kaya Artemis Hotel.
Located in the south of Cyprus, Bafra Kaya Artemis Hotel is 55 kilometers from Larnaca airport and 55 kilometers from Ercan airport. It is 32 kilometers from Magosa, also known as Famagosa.
Concorde Luxury Resort Hotel
After receiving your alcoholic or non-alcoholic drink from the Concorde Luxury Resort Hotel's all-day-long open bars, you can enjoy sunbathing on the 300-meter coastline of the property. With 2 indoor restaurants, it provides catering service to the guests at all hours of the day. In addition, Concorde Luxury Resort Hotel has 5 A'la Carte Restaurants. In this way, you can have pleasant and satisfying meals with your family in the international cuisine you desire. Thanks to the villa accommodation types of the hotel, you can be a guest at the poolside or garden villas as a minimum of 2 adults, maximum 4 adults and 2 children. You can have fun with your children in the indoor and outdoor pools of Concorde Luxury Resort Hotel or spend exciting minutes doing water sports at its beach such as catamaran, banana and jetski. Thanks to Coast Guard personnel, Bafra hotel, which allows your children to swim comfortably during your holiday, has professional instructors who provide diving training for action-loving holidaymakers.
Concorde Luxury Resort hotel offers a different sense of entertainment for guests who are tired of swimming. It has special areas for you to play Luck games and play games such as billiards, bowling for free. It also features a disco and a kareoke bar for you to spend a fun nightlife. After the action and entertainment, you can relax and feel refreshed by using the spa, jacuzzi and massage services located on the property. Doctor, hairdresser, market, car rental services are available. Concode Luxury Resort Hotel is 67 kilometres from Larnaca airport and 56 kilometres from Ercan airport.
Noah's Ark Deluxe Hotel & Spa
Offering an Ultra all-inclusive concept,Noah's Ark Deluxe Hotel & Spa , also known as Noah's Ark, allows you to swim on the beaches of Bafra Karfaz thanks to its seafront location. Offering an Ultra-all-inclusive concept, this Bafra Hotel has a restaurant with rich open buffets, as well as many a la Carte restaurants and bars serving different concepts. Stylish, modern and distinguished by Noah's Ark designs, the hotel rooms have many facilities that you may need during your stay, from minibar to satellite broadcasting. Located in Bafra's İskele district, it features its own 1300-meter beach area, as well as a large swimming pool and sun terrace. In the Karina SPA & Wellness center of the property, which has modern facilities; Facilities such as sauna, Turkish bath, steam room, gym and indoor pool are available. In addition, attentive and comfortable service is offered by an experienced team with the world's most special masseurs at the SPA center for guests who wish. Offering a pleasant holiday opportunity for both couples and families, the property also provides a mini club with experienced trainers for children.
For honeymoon couples the hotel is offering special room decoration, special guest amenities, fruit basket and wine, and a special breakfast served to the room one morning of your choice, the property offers free one-day A'la Carte Restaurant service to its repeat guests.
Noah's Ark Deluxe Hotel is 70 kilometers from Larnaca Airport and 60 kilometers from Ercan Airport.
Limak Cyprus Deluxe Hotel
Thanks to the balanced climate of Cyprus in all seasons, Limak Cyprus Deluxe Hotel, which enables its guests to have a holiday every day, offers a luxurious accommodation atmosphere together with the ultra all inclusive hotel concept. In this hotel, which has rooms with all kinds of technology and comfort, you will find the comfort you desire. You will experience all kinds of tastes in Limra restaurant, where the most distinguished dishes from Turkish and world cuisines are served, as well as A'la Carte restaurants with international cuisine.
Limak Cyprus Deluxe hotel offers a full entertainment and unforgettable holiday experience with concerts throughout the holiday season. Limak Cyprus Deluxe Hotel organized concerts with famous names such as Alişan, Linet, Serkan Kaya, Sertap Erener, Gülşen, Ferhat Göçer in the summer of 2020. Book your place early on booking2cyprus and join the concerts of popular artists!
Considering athletes as well, Limak Cyprus Deluxe Hotel offers its guests free tennis court, basketball court and a huge aquapark area. With its indoor and outdoor pools, aquapark with seven slides, comprehensive mini club and junior club facilities, Limak Cyprus Deluxe Hotel opens the doors of a holiday that will make guests of all ages feel privileged and special. Limak Group, also considering businessmen in hotel planning, has built large-scale congress halls for Limak Cyprus Deluxe Hotel.
The facility in Bafra is located 12 kilometers from the center of the İskele district, 65 km from Ercan airport , 40 kilometers from the center of Magosa and 65 kilometers from Larnaca airport.
For 5-Star Bafra hotels www.booking2cyprus.com / you can plan yourself great Cyprus trips at.